Variety Girls - All-Female Revue - Broadway Bound Variety Show
Variety Girls, a ShowPals International production, featuring the world's best female variety artists (singers, dancers, comedians, novelty acts, and more) is Broadway bound after amazing success as upscale corporate entertainment production.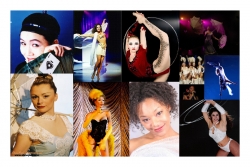 New York, NY, March 17, 2007 --(
PR.com
)-- ShowPals International - a leading provider of live variety entertainment for casinos, cruises, colleges, cabarets, and corporate events worldwide - has announced the Broadway debut of Variety Girls - a fast-paced production featuring some of the world's best variety acts and an all-female cast.
"Variety Girls has been a phenomenal success as a packaged show for corporate and special events worldwide," says Patrick James, Director of Talent and Productions for ShowPals International. "With such amazing talent to showcase, it only makes sense to bring an expanded production to Broadway."
And "amazing" they are: Variety Girls is sort of Ziegfeld Follies meets MTV, presenting an array of sensational performers, including a jazz singer that the great Ella Fitzgerald would be proud of; a beautiful magician that has been acclaimed as one of the greatest ever; and a line-up of sassy dancers, cirque-style acrobats, and other unique acts that are beyond compare. "As you will see, these are some of the best variety acts in the world today," notes James. "And they just happen to be ladies."
While brightening Broadway with stunning and beautiful variety entertainment, ShowPals International will be donating all profits from the two-year engagement to charitable organizations focusing on women's health issues. "The idea is to present not only live entertainment that will enchant audiences, but, also, an event that will inspire and benefit others."
The show has proven to be the perfect presentation: "Variety Girls can be customized to suit any venue, audience or event," boasts James. "It is a production that can include only a few artists for intimate venues or a cast of up to 20 performers for Broadway and Las Vegas; It appeals to international audiences of all ages; and is a unique presentation - like Cirque du soleil and the Ultimate Variety show." For this reason, the production has been popular at corporate events worldwide. Other venues under consideration include Las Vegas, a world tour, and upscale cruises.
In addition to Variety Girls, ShowPals International also provides individual world-class variety acts, custom stage shows, and packaged theatrical productions such as: Star Search Live (similar to the popular TV show but with a twist - the entertainers are professionals); Comedy Cavalcade (a comedy club-like experience that tours conventions, colleges, and corporate shows); Sizzle (a high-energy Las Vegas-style revue customizable for any venue or event); and Cirque Cabaret (featuring mesmerizing cirque artists in an intimate atmosphere).
For more information on Variety Girls and other entertainment presentations, visit: www.varietygirls.com
###
Contact
Showpals
P. James
877-234-7737
http://www.showpals.com
talent@showpals.com

Contact