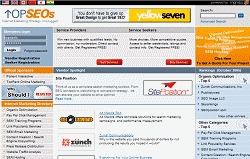 Plymouth, IN, October 05, 2005 --(
PR.com
)-- topseos.com, a leading
internet marketing
resource which profiles over 600 internet marketing firms, has re-launched with all new features and a fresh brand. With literally thousands of internet marketing firms worldwide, there is little doubt that most organizations are challenged when trying to find assistance from the right mix of internet marketing vendors. The all new topseos.com site is here to address this challenge.
"The task of selecting an internet marketing company can be very confusing. Our goals are to make it easier for companies to locate the right internet marketing vendors and to provide a credible marketplace for service providers to present their services." said Bill Peden from topseos.com.
The newly updated site allows buyers "service seekers" to quickly and effectively locate quality internet marketing services all in one place. topseos.com features top notch hosting providers, content creation providers, organic search engine optimization vendors, pay per click management service providers, link popularity services, and much more. To make the search easier, internet marketing firms are ranked by their areas of specialization enabling buyers to approach best-of-breed organizations.
Alternatively, service providers are able to showcase their services and request that their organizations be reviewed for rankings on a monthly basis. The vendor review process includes having three of their most recent projects closely reviewed by topseos.com staff. Clients of the featured internet marketing firms are contacted individually to gain a better understanding of the internet marketing firm and its capabilities. Pending vendor review, rankings are updated monthly to provide buyers with access to the top ranked firms.
Internet marketing companies and consultants that would like to be considered for the topseos.com top rankings list can complete an application by registering as a service vendor and applying for rankings at:
http://www.topseos.com/option,com_register/task,providerRegister/
Companies that wish to research and evaluate internet marketing firms can easily do so at:
www.topseos.com
About topseos.com
topseos.com was founded in 2002 by e-ventures and serves to provide the search engine marketing industry and companies with a single source for researching internet marketing vendors as well as a place for internet marketing and service providers to showcase their services.
###