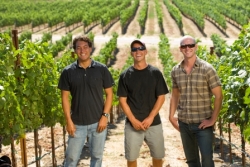 Paso Robles, CA, June 15, 2011 --(
PR.com
)-- Blending different grape varieties to create more complex wines is an age-old technique that is practiced in almost every wine producing country in the world. ONX Wines (pronounced 'onyx'), located in the hot new Westside Paso Robles area of the Central Coast, is embracing this tradition and adding their own twist by producing wines that blend many varieties not often brought together.
With 13 diverse varieties planted on their 57-acre estate vineyard, ONX has created an 'artist's palette' of flavors from which they create their distinctive wines. "Here in Paso Robles, we are blessed with a climate that is ideal for growing a wide range of varieties, without being tied to any kind of regional traditions" notes ONX Winemaker Aaron Jackson. "We can grow what we want, the way we want to, and focus on blending varieties without boundaries." Planted to an astonishing 25 different blocks, the vineyard is laid out so that each small block can be "micro-farmed," allowing them to intricately control the flavors and characters of each variety. "With this many varieties planted, you must have the discipline to farm each variety differently and learn how to extract the best characters from each" adds Vineyard Manager Ben Epstein.
Lying 11 miles from the Pacific Ocean in the famed "Templeton Gap" of Westside Paso Robles, ONX's estate vineyard features rocky soils and a warm climate that is moderated by cool ocean breezes that arrive each afternoon. Large diurnal swings in temperature, from up to 100 degrees during the day to as low as 40 degrees at night are common, a unique occurrence that ONX feels makes their site even more ideal for the diversity of varieties they have planted. The rolling topography of the vineyard also makes for many different sun exposures, which allows for each variety to be matched with just the right microclimate.
The 2009 offerings from ONX stay true to their vision of creating non-traditional wines, with a portfolio of 4 distinctively different blends. Described as "mating the traditional with the unorthodox," each of the wines is a joining of no less than 4 varieties, many of which are not commonly blended together. Bringing together Rhone, Bordeaux, Spanish, and "heirloom" California varietals such as Petite Sirah, ONX is redefining what great California wine is all about. One blend, known as "Brainchild" is comprised of Tempranillo, Cabernet Sauvignon, Grenache, Syrah, and Petite Sirah. "Paso Robles is a progressive region with winemakers who don't want to confine themselves to trends or traditions. At ONX we want to write our own history, not try to recreate someone else's. We're making wines that are original and define our progressive nature" states Jackson.
For additional information on ONX Wine and their wines, contact Jenny Freck or visit http://www.onxwine.com.
Contact:
Jenny Freck
ONX Wines
jennifer@onxwine.com
(805) 439-0583
http://www.onxwine.com
###