Ad4Profit.com Announces Its Revolutionary New Concept Providing Advertisers a Combined Opportunity for Advertising and Revenue Generation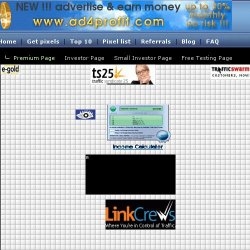 New York, NY, March 21, 2007 --(
PR.com
)--
www.ad4profit.com
has launched its new opportunity for advertisers to place advertisements and to participate in profit sharing, earning revenues generated from their business. This unique vehicle provides two valuable opportunities simultaneously to advertisers: 1) place advertisements on www.ad4profit.com, and 2) share in profits from www.ad4profit.com.
How does this unique concept work?
An advertiser places a graphic advertisement for at least 5 years on www.ad4profit.com, starting from 10x10 pixels, for an amount of money that ad4profit Ltd. handles as an investment. The amount an advertiser pays is used to increase the operational capital of Ad4Profit Ltd. With increased capital, ad4profit Ltd. gains higher yields, and therefore shares a significant portion of these higher yields with the advertiser.
Who is ad4profit Ltd.?
ad4profit Ltd. is a new branch of an international enterprise in existence over 20 years, with presence in Germany, Czech, Gibraltar and Seychelles. The activities of the parent company extend from software production over management consultation up to financial and real estate exchange in the former eastern block countries. Monthly yields amount announced should be, depending upon state of business, up to 35%.
What can the advertiser earn?
After a phase of one month for clearing, ad4profit Ltd. will start to pay the profit back to the customers. Depending upon monthly results, the pay-offs to the investors should be up to 30% of the price paid for the advertisement.
###
Contact
ad4profit.com Ltd.
Sebastian Bach
00420 606 567 990
http://ad4profit.com

Contact