Tolar Manufacturing Celebrates 20 Years of Best-in-Class Transit Shelter Solutions
Corona (CA) based Tolar Manufacturing Company, Inc, a recognized industry leader in transit street furniture solutions, celebrated twenty years of providing best in class transit shelters and related amenities with a company luncheon and awards ceremony.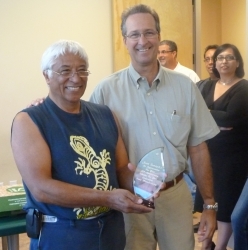 Corona, CA, June 16, 2011 --(
PR.com
)-- For twenty years, Tolar Manufacturing Company, Inc has been providing best-in-class street furniture solutions to communities across North America. Gary Tolar, company President, marked the historic occasion by awarding a 20-year plaque to long term Tolar employee Juan Gonzalez at today's company-wide celebration.
Gonzalez, Tolar's sheet metal supervisor, caught off-guard by the honor, was part of the team that started at Tolar at its original facility in Anaheim (CA). Gary Tolar shared a few memories about the early days at Tolar remarking about Juan's positive attitude and willingness to help out anywhere on the shop floor in order to deliver a product that was on-time and exceeded customer expectations.
"We have grown tremendously from our early days. We are now in our third manufacturing facility, we serve customers all across North America, but we should never lose sight of how this company started. We grew from our humble beginnings by listening to our customers, understanding their expectations and delivering a quality product. Please accept my appreciation for your role in this important mission," remarked Tolar to the team.
Juan shared an occasion from the early days when Gary came running on to the shop floor with the first order of twelve shelters. "Gary was so excited. We worked very hard to fabricate those first shelters and we got them done right and on time. Gary delivered them himself on his car hauler trailer. I remember that it took many trips down to San Diego." Juan continued, "You know, and this is important, we are a lot bigger now but I will never forget those first shelters."
The Tolar team recognizes that transit has changed, just as Tolar Manufacturing has. The standard shelter design is no longer acceptable in many instances. Each city or agency is looking for something distinctive that reflects their community. With well over 500 variations of various shelter designs, Tolar is well equipped to meet those challenges whether it is local or bus rapid transit shelters, branding elements, mall kiosks or airport displays. Tolar has a best-in-class, purpose driven designs for your community.
These custom designs and the challenges they present are one of the things that keep Gary and Juan coming to work every day and having fun.
About Tolar www.tolarmfg.com www.facebook.com/TolarManufacturing
Founded in 1991, Tolar Manufacturing Company, Inc. designs and fabricates best-in-class bus shelters, street furniture and display structures. The company operates a 55,000 sq. ft. company owned modern structure in Corona, California, that serves as its corporate headquarters and manufacturing facility. Its 49 person multi-disciplined team is responsible for designing and fabricating quality street furniture for installation in over 400 communities across North America and for transit districts, government entities and major outdoor advertising companies.
###
Contact
Tolar Manufacturing Company, Inc
Patrick Merrick
800-339-6165
www.tolarmfg.com
258 Mariah Circle
Corona, CA 92879

Contact