Sculptor Creates Portrait of St. Michael to Benefit Injured Buffalo, NY Police Officer
Shawn Slother, of Sculpture Portraits, has sculpted a portrait of St. Michael in honor of Patricia A. Parete. Parete is a Buffalo, NY police officer injured in the line of duty, Dec. 06. Slother will be donating a portrait to Officer Parete's family and offering portraits to the public, as well.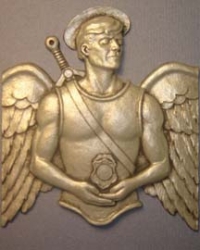 Buffalo, NY, March 21, 2007 --(
PR.com
)-- Buffalo Police Officer Patricia A. Parete was paralyzed, in the line of duty, in December 2006, and a fundraising benefit is being held for her on March 31st. Sculpture Portraits, of Cambria, has sculpted a low-relief portrait of St. Michael, the patron saint of law enforcement officers, in Officer Parete's honor.
"This is such a tragic incident and I felt that the community should rally behind Patty and show our support," said Shawn Slother, owner of Sculpture Portraits. "I sculpted St. Michael as a tribute to Patty and all the officers that demonstrate such remarkable strength, courage, and determination."
Slother will be donating a St. Michael portrait to Officer Parete's family, as well as, offering the sculpture to the public, with 20% of all sales going to the Patricia A. Parete Fund. Slother will be accepting orders for St. Michael at the Parete Benefit, March 31st, at the Buffalo Convention Center. For those unable to attend, photos of the portrait may be viewed and orders may be submitted at www.Sculpture-Portraits.com.
The original portrait was sculpted in clay, and the completed bas-relief sculpture is mounted within a shadowbox, for prominent display. "There are a number of options available to personalize your portrait of St. Michael. Such as the sculpture finish, matte, shadowbox, and wording," said Slother.
For more information on the Parete Benefit or to place an order for a St. Michael portrait, you may contact Shawn Slother, Sculpture Portraits, at 716-731-5373 or Shawn@Sculpture-Portraits.com.
Contact:
Shawn Slother
Sculpture Portraits
716-731-5373
sculptportraits@aol.com
###
Contact
Sculpture Portraits
Shawn Slother
716-731-5373
www.Sculpture-Portraits.com

Contact