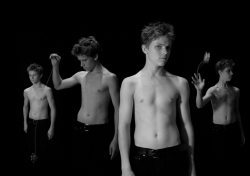 Berlin, Germany, March 22, 2007 --(
PR.com
)-- Tim White-Sobieski is showing his new photographic work "Awakening" at Galerie Michael Schultz. His motif is a teenager (White-Sobieski's son), whose appearance is often digitally multiplied and displayed in front of nocturnal backdrops.
The series "Awakening" is based on a video, which White-Sobieski filmed about a year ago. It shows the emotions of a teenager, awakening from his childhood existence and stepping into the world of adulthood. With a ruminant imagery the photographs reflect on the processes of growing up. The youth who he depicts in most in his works still shows traces of a childish past, however, clearly revealing the future of a grown up man.
The boy seems introvert and lost in thought. In a world between dream and reality he does not allow any eye contact with the spectator and therefore does not involve him in the events. Symbols such as the yo-yo and the clock stand for progress and life time. At the same time they capture the moment of movement and emphasize just this one short moment, which can only be made visible with photography. The works juxtapose aesthetic balance and a tantalizing play with photographic perfection and different facets of content.
The protagonist broke out from the closed and sheltered world of childhood. His future remains uncertain and a fascinating discovery journey just lies ahead of him.
Tim White-Sobieski is one of the leading figures in contemporary art, his work is exhibited widely internationally, including Germany, Canada, Switzerland, France, USA, Korea, Belgium, Italy and Spain.
Galerie Michael Schultz OHG
Contemporary, young, German and international art
Mommsenstrasse 34
D- 10629 Berlin
phone +49 (0)30 31 99 13 0
fax +49 (0)30 31 99 13 50
office@galerie-schultz.de
opening hours
Thurs-Fri 11 pm -7 pm
Sat 10 am -2 pm
###