Atlona Flat HDMI Cable 1.3 Rated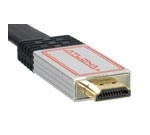 San Jose, CA, March 22, 2007 --(
PR.com
)-- Well, here's the product that most of us with HDMI equipment been waiting for – Flat HDMI cables. There has been a lot of talk on the internet about this type of cables, but unfortunately it is very hard to find clearly defined advantages or disadvantages of these cables.
One of the biggest advantages of these cables is that they are ready for the near future. All of Atlona flat HDMI cables in lengths up to 50ft (15m) carry HDMI 1.3 rating. This rating translates into the cables ability to transfer a higher resolution signal, such as 1440p/WQXGA.
Another advantage is an ability to carry higher refresh rates. While the upper limit of HDMI 1.3 was not specified, it is expected for the refresh rates to reach as high as 120Hz. This is especially a big plus in computers, where high refresh rates are needed to reduce screen flickering. Perhaps we will soon see computers and computer monitors with HDMI inputs and outputs.
More Colors is another plus. Unlike previous HDMI rated cables could carry only up to 24-bit in color depth, which translates to 17 million colors. HDMI 1.3 can carry 30-bit, 36-bit and 48-bit color depth, which translates to 1B, 69B and 281T colors. Now that's truly a lot of colors.
Ok, but what about audio? Lets take a look at the new audio support that HDMI 1.3 provides.
HDMI 1.3 adds additional support for new, lossless compressed digital audio formats: Dolby® TrueHD and DTS-HD Master Audio™, which provide up to 8 channels of lossless surround sound. This will provide us with the highest quality audio experience – the same as in the movie theater.
ATF series cables – the series of Atlona flat HDMI cables, also carry a CL2 rating, which means that the jacket complies with the standard for in-wall installations. They are ROhS rated, which means that they contain no harmful materials like Lead. They are available in Black and White colors to help you hide them if you are not planning on running them in walls. The jackets of these cables are paintable, to help you hide them, when running these cables on the walls. Because of the Flat design, the crosstalk in these cables is reduced. A Crosstalk is an interference that a cable generates. If you would look at the design of the flat cables, you will find that there's a larger distance between the sets of twisted conductors. This particular design reduces the pickup of interference that neighboring set of conductors generate.
So in the end we have a better signal transfer, ability to transfer higher resolutions, more colors, higher refresh rates, better audio, ratings for different installation applications. It seems like this is the only piece that our Home Theaters are missing.
Atlona ATF series cables have been released a few weeks ago and so far the only feedback that they have had was great!
Atlona Technologies is a subdivision of Lenexpo Electronics, created as one of their own cable and equipment brand names. Every cable and a piece of equipment manufactured under this brand name meets or exceeds the standards set by US, Canadian and European Governments.
All of their equipment and cables are built under the following standards and certifications(if applicable): HDMI, DDWG Rev1.0, CE, UL, C-UL, ISO 9001 and ISO 9002. They are working with large companies like HP, Comcast, SBC, Delta etc…
Stan Palguyev
www.atlona.com (manufacturing division)
www.lenexpo-electronics.com (sales division)
Toll free - 1.877.536.3976 x116
###
Contact
Lenexpo
Stan Palguyev
1-877-536-3976
www.lenexpo-electronics.com

Contact