People Moving Within New York Embrace This Bed Bug Fumigation Service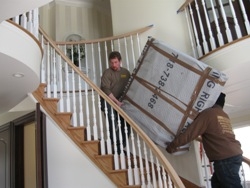 Ozone Park, NY, July 01, 2011 --(
PR.com
)-- Bed Bug-Busters, a licensed and insured professional moving service, has teamed up with fumigation professionals to provide a worry-free solution to families and businesses that are on the move.
This is the beginning of the busy moving season as well as what is expected to be a record-breaking bed bug season. New York has proven to be the shiniest spot on the buckle of the bed bug belt.
Owner Jim Rueda says, "We can help whether you have bed bugs and want to stay in the same space or if you don't have them and are ready to move on to a new place without the worry of getting them." Previous studies have concluded that moving vans have helped spread bed bugs. So what is one to do? Who is one to call? "Bed Bug-Busters," says Jim. His service provides elimination through fumigation; 100% guaranteed to kill 'em all no matter how big or small, even the eggs.
Everything is loaded into specially designed chambers that vary in size, then fumigated with Vikane gas – a colorless, odorless and tasteless fumigant that leaves absolutely no residue and is perfectly safe. "You can eat off the plates," Jim says.
Word has spread that their equipment is fumigated regularly and that gives clients without bed bugs peace of mind.
Other movers' line of offense has been to heat treat their equipment periodically or spray it with natural organics, but these treatments are just hype and are flawed. Fumigation is the best line of offense and, as a result, Bed Bug-Busters' service has been lauded by apartment and hotel managers, dwellers that have infestations and folks that are simply just moving right along.
www.bedbug-busters.com
###
Contact
Bed Bug - Busters
Jim Rueda
718-287-8377
www.bedbug-busters.com

Contact