Introducing a New Category of Bathtub Safety Mats
A shocking study by Ohio State says that most children are supervised while they are injured in the bathtub. A majority of parents were aware of bathtub dangers and had tried to prevent injury with bath tub mats or slip resistant strips. A new category of "stick down" bath mats may lead to fewer injuries and is easier to clean.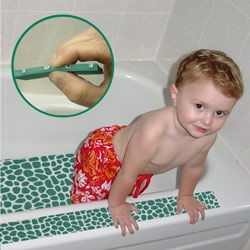 Sacramento, CA, March 24, 2007 --(
PR.com
)-- A shocking statistic has emerged regarding bathtub injuries in children: 82% of childhood bathtub related injuries are due to slips and falls – even while being supervised by parents. This was based on an Ohio State University College of Medicine study (www.cpj.sagepub.com/cgi/content/abstract/44/4/311 ) showing adults were present during 85% of the injuries in children younger than 5 years of age. The most frequent location of injury was the head or face (68%).
Despite the fact that more than 70% of bathrooms had slip resistant surfaces outside the tub (bath mats and rugs) and 40% had slip resistant strips on the tub surface, the injuries continue. To date, there have been no major improvements on the traditional tub mats that do not stand up well to the wet and soapy conditions found in the bathtub. Further, most bath tub mats can be hard to keep clean. Typical bath tub mats attach using suction cups thereby trapping water, which leads to mold and mildew growth. Slip resistant strips are easier to clean, but fail to cover much of the tub surface or increase traction adequately.
According to Nick White, Marketing Director of Gator Grip, there's now a new category of bathtub safety mat that could help to substantially reduce childhood falls. It's called Gator Grip, and it combines marine grade foam rubber with a non-permanent peel-and-stick adhesive.
"We discovered that Gator Grip bathtub mats compress from the weight of a person standing on it – even if it's a child. This leads to more contact area and greatly increases traction," noted White. "Additionally, channels in the material allow water to flow underneath the foot – similar to the way tread designs work on automobile tires to prevent hydroplaning," he added. "Cleaning is made much easier because Gator Grip is made from a polymer pseudo rubber that is inherently mold and mildew resistant. By sealing to the tub surface, water doesn't get underneath Gator Grip – preventing mold and mildew growth, which is so common with suction cup bath mats," stated White.
The Gator Grip material was originally designed in the 1990's for marine use such as boats and jet-skis to increase slip resistance on decks and walking surfaces. A secondary requirement is easy cleaning, which typically consists of nothing more than washing down a surface with a hose. Today, U.S. Customs uses Gator Grip on the decks of their Homeland Security Patrol Boats.
Full-length Gator Grip bathtub mats sell for $29.99 at www.noslipgatorgrip.com
###
Contact
Gator Grip
Nick White
916-736-2863 ext 103
www.noslipgatorgrip.com
916-206-5480 cell

Contact