NJ Teens Find Unique Ways of Raising $10,000 for Cancer Research
Captained by a 16 year old girl who has already received 4 National Awards for community service in her short life, this NJ Relay for Life teen team has become Flagship team with a fund raising goal of $10,000 to benefit the American Cancer Society. The teens have come up with creative fund raising ideas to reach their lofty goal.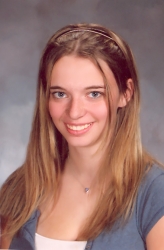 Westfield, NJ, March 25, 2007 --(
PR.com
)-- Kasey's Crew East is a Westfield NJ High School Relay for Life team, named in honor of a 9 year old boy with brain cancer. They are a Flagship Team in the Scotch Plains/ Fanwood Relay for Life, made up of ten 14-17 year olds whose goal is to raise $10,000 to benefit the American Cancer Society. The Relay is an overnight event, designed to raise awareness and funds to support cancer research, while empowering people to fight back against cancer. This is an important cause for these teens, as each has had a close friend or family member with cancer.
Captained by 16 year old Samantha Luscombe, who has received her Girl Scout Gold Award; 3 Presidential Volunteer Service Awards in as many years, with the latest being at the Gold level; was named the National Daily Point of Light for 12/28/06, and has been nominated for the National Young Women of Distinction Award to be determined in April 2007, the teens are doing the usual fund raising, contacting friends, relatives and neighbors for donations, but have gone beyond what teen teams usually do and planned a variety of creative events and activities to reach their lofty goal. They have contacted some celebrities who are performing around New Jersey in the next few weeks in hopes of gaining signed photos to use to draw people to donate at their table at a town wide event in April. The photos will used as drawn prizes at the end of the day for those who have donated.
Another creative way to get donations was offered by a very generous local realtor who offered a donation of a minimum of $125 plus $1 for every comment left on her website about the Relay after the 125th. The team is spreading the word to get local residents to log on and make that donation grow.
The teens are also planning events around the town, such as a fair for local children and a battle of the bands for local teens, with all proceeds going to the ACS.
Individuals can help by donating online at
https://www.kintera.org/faf/donorReg/donorPledge.asp?ievent=205640&supId=160180716
or by sending a check made out to "The American Cancer Society" to The American Cancer Society, 507 Westminster Ave., Elizabeth, NJ 07208 with RELAY ID # 160180716 in the memo section of the check to assure that it is credited to the team. All donations are tax deductible, and business sponsorships with advertising at the event are also available at $125 and $500 levels by contacting the same address by April 15, 2007 (Please mention Kasey's Crew East when donating.)
###
Contact
Kasey's Crew East - Teen Relay For Life Team to benefit the American Cancer Society
Nancy Luscombe - Samantha's Mom
908-233-8619
https://www.kintera.org/faf/donorReg/donorPledge.asp?ievent=205640&supId=160180716

Contact