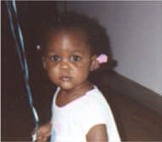 Springfield, IL, October 07, 2005 --(
PR.com
)-- Cincinnati Police have issued an Amber Alert for a 19-month-old girl. The girl may be in extreme danger according to a Police spokesman.
Darius Myrick abducted his 19-month-old daughter, Aliyah, from the 600 block of West McMicken Avenue Thursday night. Myrick made threatening statements about the child to the mother. Police are concerned about recent erratic behavior.
Darius Myrick, 32 description is a black male, 5 feet 8 inches tall and 140 pounds. He was last seen wearing a tan and green checked polo shirt and tan pants.
Aliyah is about 2 feet 6 inches tall and 23 pounds with brown eyes and black hair. She was wearing a red and white checked shirt and blue jeans.
For a complete Detailed Broadcast. Please visit our site at:
http://www.projectsafekids.org/alert.html
Webmaster's visit our website to download "The Project Safekids Amber Alert Ticker" to stay upated on current Amber Alerts as they happen. You can download our "Amber Alert" ticker by visiting our website here:
http://www.projectsafekids.org/code.html
Project Safekids also furnishes Breaking News and Amber Alerts via Cell phone and RSS/XML feed. You can subscribe to our RSS feeds for Amber Alerts by clicking on our feed link.
http://www.projectsafekids.org/AmberAlert.xml
###