Texas Trust Credit Union Takes Part in the Planking Craze
Jim Minge, President of Texas Trust Credit Union, joins 32 employees in group plank on the front lawn of its corporate office.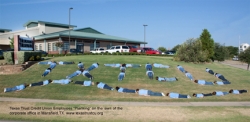 Dallas, TX, July 21, 2011 --(
PR.com
)-- Employees at Texas Trust Credit Union, one of the largest credit unions in North Texas, now have their own planking team. These 33 TXTCU employees started their morning off right when they 'planked' on the side of their headquarters lawn in Mansfield Wednesday.
Planking -- also known as the Lying Down Game -- is the trend of lying face down, perfectly stiff, on various structures in public. While the game apparently originated in 1997, and became known as "planking" in Australia, it has become more of a fad recently.
"This planking phenomenon is taking off, and we thought it would be fun to join in," said Jim Minge, one of the plankers and also the President/CEO of Texas Trust Credit Union. "With this being our 75th anniversary year, Texas Trust is celebrating and creating memorable moments for members. We thought this would be one of those moments."
Watch the TXTCU Planking team in action on
YouTube
. A static photo of the TXTCU plank is available upon request.
About Texas Trust Credit Union
Marking its 75th year in business in 2011, Texas Trust is one of the largest credit union in North Texas and the 21st largest in Texas. It is a full-service financial institution offering checking, savings, mortgages, credit cards, CDs, Money Market accounts, IRAs, and investment and insurance services. Its business services include SBA and conventional loans, electronic payment cards, checking and money market accounts, merchant card processing, online banking, insurance, and the Employee Solutions Network. With 58,000 members and assets of more than $680 million, Texas Trust operates in Dallas, Tarrant, and Henderson counties, as well as parts of Ellis and Johnson counties. Texas Trust branches are located in Mansfield, Grand Prairie, Arlington, Cedar Hill, and Athens. For more information, visit www.TexasTrustCU.org.
###
Contact
Texas Trust Credit Union
Amber Danford
800-527-3600 ext. 1203
www.texastrustcu.org
Kristine Tanzillo
Dux Public Relations
Kristine@duxpr.com
903-865-1078

Contact