Dentists Opposed to Greater Independence for Dental Hygienists
The clear majority of US dentists are not in favor of allowing dental hygienists to practice independently. In a recent Wealthy Dentist survey, four out of five dentists voted against hygienists becoming independent practitioners. Though such a change may improve access to dental care for some Americans, the average dentist is more concerned about maintaining an adequate level of care.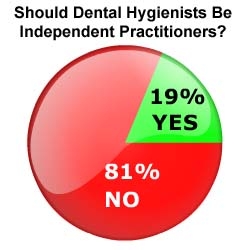 Tiburon, CA, March 29, 2007 --(
PR.com
)-- Four out of five dentists are opposed to expanding the role of dental hygienists as independent practitioners. In a recent Wealthy Dentist survey (www.thewealthydentist.com/survey), a full 81% of dentists felt that many of these proposed changes could harm dental practices and offer patients a lower standard of care. Only 19% opined that granting dental hygienists greater autonomy would improve access to care for patients across the country.
Many countries (and even some US states) have passed or are considering legislation to expand the role of dental hygienists, granting non-dentists greater independence with less supervision. Supporters of these laws claim the changes will improve the public's access to dental care. Access-to-care issues have recently been in the spotlight after the death of a homeless 12-year-old Maryland boy, Deamonte Driver, who succumbed to an untreated tooth infection that spread to his brain.
The most significant factor in determining a dentist's vote in this survey was geographic location. Rural dentists were four times more likely than their urban or suburban colleagues to support greater independence for hygienists. With many rural locations suffering from an acute shortage of dentists, some rural doctors feel that allowing dental hygienists more independence could improve rural Americans' access to dental care.
Specialists were completely (100%) opposed to granting hygienists more independence. (The category of "specialists" includes orthodontists, oral surgeons, periodontists, etc.) While most general dentists were in agreement with the specialists, one in five general dentists (21%) favored greater rights for dental hygienists. These differences may reflect a more intimate relationship between hygienists and general dentists than specialists.
Nearly all dentists felt that there is no replacement for a dentist's supervision. "Expanding the role of hygienists MUST ensure that patients do not receive fragmented care," wrote a rural New Hampshire dentist. "They must be continually encouraged to seek complete care, not just hygiene care." This sentiment was echoed by a doctor (and former hygienist) from Minnesota: "I support the hygienist's ability to perform many expanded functions when properly trained, but functioning as independent practitioners is a totally different question. I do not support the independent practice of dental hygiene."
"We have it in Colorado and it has had absolutely no impact," said a Colorado dentist, continuing, "Hygienists are not the autonomous entrepreneurial sort." An Arkansas doctor questioned the financial viability of the concept: "The business model doesn't make sense anyway. Hygienists generally do low-profit procedures, and the overhead would kill them." A California dentist agreed, saying, "There is no money in prevention, so these hygiene offices would go out of business."
Dentists' primary concern was maintaining a high standard of care for all patients. "My concern is the insurance industry will find it easy to set up hygiene clinics that promote minimal care, not optimal," wrote a North Carolina doctor. Said a Washington state dentist, "This gives patients of these hygienists the illusion of receiving a checkup and everything is healthy, Only a dentist can diagnose decay and periodontal disease."
Hygienists are not dentists, as many respondents pointed out. "If hygienists want to practice dentistry, go to dental school," wrote an Illinois dentist. A Connecticut doctor agreed: "Hygienists would be great independent practitioners upon graduating dental or medical school."
One Iowa periodontist vented frustration with the work of some dental hygienists. "After 25 years of periodontal practice, the mean reason that I need to do more surgery than would have been necessary is poor root planing by hygienists."
Hygienists were quick to defend themselves. "Hygienists need to have more freedom to look after what is best for their patients, especially in areas of low income and of great need," wrote a California hygienist. "Our hands are tied by the politics of those who look after their best interests and not the patients'. It is us, hygienists, who have the potential to overlook dollar signs in our patients and do the right thing."
An Alaska dentist claims that it's inevitable that hygienists will become independent practitioners. "For a number of years, dentists have been trying to protect their turf by restricting or denying auxiliaries the ability to provide services. In Alaska, dental health aid therapists are working outside the regulation and licensing of dentistry. We need to wake up and be more receptive to auxiliaries doing portions of patient care and be in control of the education, licensing and regulation of these auxiliaries. It will happen with us or without us."
"When four out of five dentists agree on something, it's worth taking notice," commented The Wealthy Dentist founder Jim Du Molin. "Dentists are a diverse group, and that makes them especially interesting to study. You'll find a dentist in virtually every American community. Each month, dental providers see over 30 million Americans. Dentists are remarkably in touch with the average American. This survey shows that dentists don't completely trust anyone else to safeguard the dental health of their patients."
For additional information on this and other Wealthy Dentist surveys, visit www.thewealthydentist.com/survey.
About The Wealthy Dentist:
The Wealthy Dentist is a dental marketing and practice management resource featuring dental consultant Jim Du Molin. The site's weekly surveys and dental newsletters are viewed by thousands of dentists across the United States and Canada. The Wealthy Dentist is a sister company of the Internet Dental Alliance, Inc. (www.internetdentalalliance.com). IDA is the largest provider of dental internet marketing websites, email patient newsletters and dental directories in North America.
http://www.thewealthydentist.com
###
Contact
The Wealthy Dentist
Julia Frey
415-435-2820
www.thewealthydentist.com

Contact