Indie Band Launches Lonely Internet Tour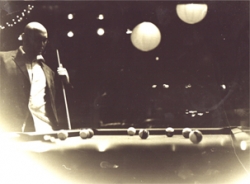 Nashville, TN, March 30, 2007 --(
PR.com
)-- Indie band "The Golden Sounds" are trying something completely different this year... touring to nowhere and playing for no one... well amost no one. It is a completely unconventional tour in support of their new album soon to be released, "lo-fi sounds for a hi-fi heart."
"As I travel, I intend to set up and play small shows at hotel rooms, bathrooms, rest stops, old country roads, pretty much anywhere I end up alone. Then I will video and document it and put it up online. That will be the only way you can see the tour, since no one will know where I will be performing... and if they do find out, well I'll just keep my hotel room locked and they can sit in the hall. It's just me and the internet audience... so I guess you could say I'm not going for the highest grossing tour of 2007," says Todd Evans of The Golden Sounds.
"What could be more lo-fi than playing in a bathroom? And What could be more hi-fi than only showing it on the world wide web?" Well said.
Keep up to date with their progress at thegoldensounds.com or at myspace.com/thegoldensounds
###
Contact
The Golden Sounds
Todd Evans
615-364-7570
www.thegoldensounds.com

Contact