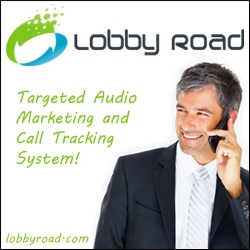 Simi Valley, CA, August 10, 2011 --(
PR.com
)-- "Lobby Road is a tool created for sales professionals, as a way to bridge the gap between prospective clients and a company's marketing, by keeping the consumer engaged and feeling comfortable during their information-gathering process," says Jon Knight. "By generating a lead while simultaneously giving the sales agent a chance to prepare for an effective response to the prospective client's inquiry, without having to interrupt that process, the opportunity for retaining that client is two-fold. And the system's ROI analytics strengthen that opportunity even more."
"Right now we are confident with our technology and are ready for a select group of sales agents to join us for a little testing," chuckles Knight.
Lobby Road enters the business world with today's economy in mind. "We know what everyone is going through. Having the economy in mind is how we priced our product," says Matthew Castellana, Vice President.
LobbyRoad.com started its development in 2010. Armed with just a vision of what the perfect telephone based marketing system should be and a passion to help sales agents in this down economy, co-owners Jon Knight and Matthew Castellana set out and created Lobby Road, Inc. Their objective was to offer sales agents a non-confrontational marketing platform that would give them the ability to provide a targeted audience with valuable information on their products, services and company 24/7 – 365.
"We are proud of what this technology has to offer. It's a complete system. We look forward to partnering with our beta users to fuel the continued development from their positive feedback."
Beta user, real estate agent, Greg Galat is quoted saying "This is an amazing product! You guys really nailed it. It's so easy to navigate, intuitive, and a pleasure to use."
To learn more about Lobby Road, Inc., call-capture and call-tracking, visit:
www.lobbyroad.com
###