AtGames to Launch the Atari Flashback 3 Retro Gaming Console with 60 Built-in Games Recreating the Original Atari 2600 Retro Gaming Experience
AtGames announces the release of the Atari Flashback 3 console including 60 built-in games in the USA.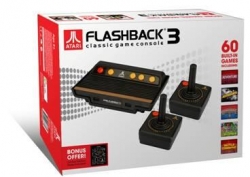 Los Angeles, CA, September 08, 2011 --(
PR.com
)-- AtGames Digital Media Ltd. is launching the Atari-licensed Atari Flashback® 3 console in the U.S. This product recreates for gamers the original video gaming experience of the widely appealing video game console (30 million units sold worldwide) from the 1980's.
With titles such as Asteroids, Missile Command, Centipede, Yars' Revenge and 56 others, there are hours and hours of the purest video gaming entertainment for the whole family.
For anyone who had an Atari 2600 back in the 1980's, the Flashback 3 really is a "flashback" to an era when video gaming first had mass appeal. But if you haven't had the experience of the original Atari, then the Flashback 3 takes you right back to the heart of the eighties.
With styling based on the original Atari 2600, the Flashback 3 is complete with two retro joysticks, also based on the original Atari designs. This retro experience allows you to go back in time so you can experience how it all started, and why retro gamers still say that the Atari games are as playable now as it was then. The Atari Flashback 3 is an easy to use plug and play device that you use with your TV that provides an affordable piece of video gaming nostalgia suitable for the whole family.
"Atari games are known around the world and we are pleased to partner with AtGames to re-launch our best selling Flashback series of classic games for a whole new generation of consumers worldwide," says Lee Jacobson, SVP of Licensing at Atari Inc.
"Atari is one of the legendary brands in the world that goes beyond borders and time. We are delighted to be Atari's partner for bringing the Atari Flashback 3 to the worldwide audience," says Dr. Ping-Kang Hsiung, CEO of AtGames Digital Media Ltd.
The Atari Flashback 3 will be available in September 2011 for the low price of $39.99. AtGames has designated Digital Media Cartridge as its distributor.
Features:
Design based on original Atari 2600
Two retro joysticks based on original Atari controllers
60 built-in games
Plug and Play into your TV
Classic limited edition Atari poster included
Games List:
3D Tic-Tac-Toe
Fatal Run
Swordquest: Earthworld
Adventure
Flag Capture
Super Baseball
Adventure II
Frog Pond
Saboteur
Air·Sea Battle
Fun with Numbers
Save Mary
Aquaventure
Golf
Secret Quest
Asteroids
Gravitar
Sky Diver
Backgammon
Hangman
Space War
Basketball
Haunted House
Sprintmaster
Battle Zone
Home Run
Star Ship
Bowling
Human Cannonball
Steeplechase
Canyon Bomber
Maze Craze
Submarine Commander
Centipede
Miniature Golf
Super Breakout
Championship Soccer
Missile Command
Super Football
Circus Atari
Night Driver
Surround
Combat
Off the Wall
Swordquest: Fireworld
Combat Two
Outlaw
Video Checkers
Demons to Diamonds
Realsports Baseball
Video Chess
Desert Falcon
Realsports Basketball
Video Pinball
Dodge' Em
Realsports Soccer
Wizard
Double Dunk
Realsports Volleyball
Yars' Revenge
About ATARI, SA
Atari (www.atari.com) is a multi-platform, global interactive entertainment and licensing company. The original innovator of video gaming, founded in 1972, Atari owns and/or manages a portfolio of more than 200 games and franchises, including world renowned brands like Asteroids®, Centipede®, Missile Command®, Pong®, Test Drive®, Backyard Sports®, Deer Hunter®, Ghostbusters®, and Rollercoaster Tycoon®. Atari capitalizes on these powerful properties by delivering compelling games online (i.e. browser, Facebook® and digital download), on smartphones and tablets and other connected devices. The Company also develops and distributes interactive entertainment for video game consoles from Microsoft, Nintendo and Sony. As a licensor, Atari extends its brand and franchises into other media, merchandising and publishing categories.
Atari has offices in Los Angeles, New York, Paris, Lyon and London.
2011 Atari Interactive, Inc. All rights reserved.
Atari word mark and logo are trademarks owned by Atari Interactive, Inc.
About AtGames Digital Media, Ltd.
AtGames® Digital Media, Ltd. develops innovative interactive entertainment products for worldwide distribution. AtGames® has distribution in North America, Western Europe, Russia, Latin America, Greater China, and the rest of Asia. AtGames® has offices in Los Angeles, Taipei, and ShenZhen.
Information about all AtGames products can be found at www.atgames.net
For more information, please contact Deborah Lu: deborah@atgames.net
Note: The company names and product names are the registered trademark of each respective company.
###
Contact
AtGames Digital Media Inc.
Jodie Lee
310-286-2222
www.atgames.net
Deborah Lu
deborah@atgames.net

Contact
Multimedia
AtGames announces the release of the Atari Flashback 3 console including 60 built-in games in the USA.