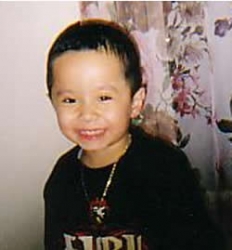 Fort Wayne, IN, April 09, 2007 --(
PR.com
)-- The Fort Wayne Police Department and The Indiana State Police have issued an Amber Alert on behalf of a 3-year-old child believed abducted by the Grandparents on 04/09/07.
Jason Renne Gavina is believed to be taken by his grandparents, Juan and Marisela Gavina, toward Truth or Consequences, N.M.
The Gavinas were driving a green, four-door, 1997 Dodge Intrepid with an Indiana license plate QW 9276, police said. They said the vehicle was headed south on Interstate 69, and was expected to go west on Interstate 70 to Interstate 25 to New Mexico.
Police said Jason is 2 feet, 5 inches tall, 36 pounds, and has short and straight brown hair and brown eyes, with a half-inch scar over his left eye.
They said Juan Gavina is 5 feet, 2 inches tall, 180 pounds, with brown hair, brown eyes, a mustache and tattoos on his right forearm. They said Marisela Gavina is 5 feet, 2 inches tall, with brown hair and brown eyes, and also has a tattoo.
Anyone with information about Jason is asked to call 911 with his location, but is asked to take no other action.
Please visit
http://www.projectsafekids.org
for more details.
###