Central City Tower Launches Part 2 of Project 0
Central City Tower Comics and Entertainment Company prepare to launch chapter 2 of the acclaimed book Project 0. The graphic novel chronicles the tale of a group of outsiders with mysterious powers, destined to reshape their world.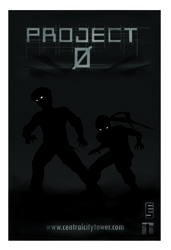 Washington, DC, September 27, 2011 --(
PR.com
)-- Central City Tower Prepares to Launch Second Chapter of Acclaimed Graphic Novel, Project 0
Independent comic studio, Central City Tower (The Tower), will release Part 2 of its original graphic novel epic Project 0 in October 2011. Readers looking for a character driven, action packed adventure need look no further.
Fusing global artistic influences, the Tower and Project 0 have been hailed by The Pullbox as "setting a standard" for American comics and as "a creative team that major players in the comic industry could learn from."
Project 0 chronicles the tale of Owen, an outsider who finds himself gifted with the power to manipulate the world around him. While trying to find a way back home, he and his two friends have a chance encounter with a mysterious private military organization, The Lancers, and the two saboteurs that will go to great lengths to stop them. An adventure is set in motion that will change their world.
Central City Tower, founded in February 2010, is an independent studio owned and operated by brothers John and Charles Agbaje (artist and writer respectively). In addition to Project 0, the Tower is also home to the West African inspired animated shorts, Spider Stories and the lovable Fuzzy+ cartoons.
Project 0 is currently available digitally for $0.99 via Graphicly.com, and readers can order limited edition print copies and posters from centralcitytower.com. For more information, sample pages and review copies please contact John Agbaje at connect@centralcitytower.com, or by phone at (757) 651-2163. Follow the Tower on Twitter (@centrlcitytower), become a fan on Facebook (facebook.com/centralcitytower) and visit us online at www.centralcitytower.com.
###
Contact
Central City Tower
John Agbaje
757-651-2163
centralcitytower.com

Contact