World's First Alarm Clock Vibrator "Designed for Pleasure" Launched in UK (Hint: It is for Women, and Worn in Their Panties)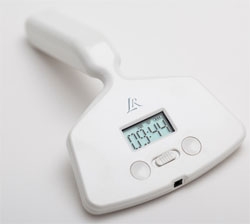 London, United Kingdom, November 03, 2011 --(
PR.com
)-- Most of us hate the sound of our alarms. "So why not make an alarm clock people actually look forwards to going off?" Inventor Tony Maggs, from London, UK, asked himself.
Two years and over 300 prototypes later, the Little Rooster Alarm Clock vibrator goes on sale in Europe and the UK. "It is worn inside your knickers but outside your body," explains Maggs. "It starts very gently, then slowly increases in power until you...wake up."
Many people worry it will not be comfortable. "I knew I had the design finally right when my test subjects started telling me that they were less aware of the Little Rooster in their knickers than of wearing the knickers themselves," smiles Maggs.
But is it an alarm clock or a sex toy? "There seems to be this idea that you have to be really wild to enjoy a sex toy," says Maggs. "But this is just such a nicer way of waking than with a conventional alarm clock. Why would any woman want to wake any other way?"
The Little Rooster® is available from
www.littleroosterstore.com
for £69 (including shipping), with a £20 off code available during November from the Twitter account @RoosterLovesYou. It has a snooze function, a snorgasm® function, a play mode, dual motors and an internally sealed rechargable battery.
###
Contact
Little Rooster Limited
Tony Maggs
08927 449 440
www.littleroosterstore.com
@RoosterLovesYou

Contact