Hip Hop Has a New Name: Kaviar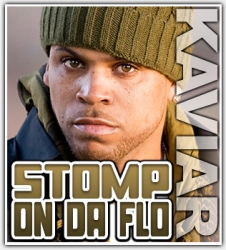 Stamford, CT, November 22, 2011 --(
PR.com
)-- (Killa Arsenal of Verbal Intelligence Always Ready)
Kaviar (Demetrius D. Little Sr) born in the Merrell Ave Housing Projects of Stamford CT. Kaviar emerges from the rap group House Of Reps, where he was featured on mix CD's by Kay Slay, Funk Master Flex, DJ Clue, and more of today's hottest DJ'S.
Kaviar releases his debut single / music video "Stomp On Da Flo," off his imprint label Love Is Love Entertainment.
Topmic Tours says "This artist right here is better than anyone of yall artist who is trying to do it!"
(Machine Gun Kelly toured with Topmic Tours, before signing with Bad Boy Records.)
Sugarwaterradio.com says "Get ready people because the kid can spit. His smash hit 'Stomp On Da Flo,' is a real problem!"
Radio stations can download "Stomp On Da Flo" online via Airplay Direct.
Digiwaxx Eblast of "Stomp On Da Flo," has brought in offers by platinum producers, to produce tracks for Kaviar's forth coming album "Main Event" (Due 2012).
Rap-As.com upon watching Kaviar's music video "Stomp On Da Flo," immediately featured it, on their blog: Rapastheblog.com.
The music video concept: Kaviar is suspected of dealing crack (music), therefore, the Police (Haters) fly Kaviar to NYC via helicopter, to deliver Kaviar to DEA Agent. (Sexy Female)
Enough about the video, tune into You Tube to follow the awesome twist!
In an effort to support radio airplay, and you tube views, Kaviar is prepared to do a KDT Tour. (Kaviar Download Tour).
Kaviar will perform at colleges, and giveaway download cards for "Stomp On Da Flo," and exclusive bonus tracks.
No stranger to the stage, Kaviar spent the summer of 2011 opening for Fred The Godson (Sullivan Hall), Winning RI Topmics, Opening for Dipset's artist in NJ, Winning HOT 93.7FM Hartford CT 20 Artist Challenge, and being featured at Musicology's finale.
The KDT TOUR will include select dates with Dice Lux and or Valentine, members of the rap group House Of Reps. To receive (10) free Kaviar downloads, go to datpiff.com
Connect directly with Kaviar on Facebook.
Copy and Paste:
Facebook Link: www.facebook.com/kaviar.map
Rapastheblog:www.rapastheblog.com/tag/kaviar/
Epk Link: www.ourstage.com/epk/kaviar
CD Baby Link: www.cdbaby.com/cd/kaviar
Datpiff.com Link: www.datpiff.com/KAVIAR--Im-Going-Back-In--mixtape.266620.html
You Tube:
youtu.be/iR03MViyFKo
Airplay Direct Link: www.airplaydirect.com/kaviar
Contact for Booking and All other inquires:
Michael Brinkley Mgmt
c/o: Michael Brinkley
Phone: (203) 360 - 5483
Email: mbartistmgmt@gmail.com
Facebook: www.facebook.com/michael.brinkley2
###
Contact
Michael Brinkley Mgmt
Michael Brinkley
203-360-5483
www.facebook.com/michael.brinkley2

Contact