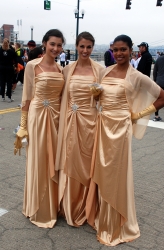 Cincinnati, OH, November 28, 2011 --(
PR.com
)-- The Girls N Gold is a secret promotion focusing on something that is happening in Cincinnati the next few weeks. The buzz is getting around and nobody knows what is really up with the girls and why they want to give us cash. Fortunately, the money comes just in time for the holidays.
If you were one of the 17,000 attending the Turkey Trot on Thursday, you may be on their Facebook page! You can see photos of the Turkey Trot and other events on their Facebook page. More photos will be available as they make their appearances in town. The girls are scheduled to be featured in a commercial, so celebrity status is about to ensue. They are happy to have a photo opp with anyone interested while they are making their way around the malls promoting their program. The girls also encourage you to post your photos with them on their Facebook page.
The girls are scheduled to be around town the following few weekends passing out cards with a link to their Facebook page (
www.Facebook.com/girlsngold
) where you can enter to win the $1,000 cash prize.
The only catch? You must be present (at the Kenwood Mall) to win the week of December 5th and available for a photo opportunity with the owners of the company giving away the cash.
The entire program is entirely on the up and up and is just a fun way to get people excited about winning some cash for holiday spending and making them wonder who is behind the generosity. Be sure the look for the Girls N Gold as you make your way through town these next few weeks, but more importantly, go check out their Facebook page (search Girls N Gold on Facebook) for a chance to win the money.
###