New ERP Software for IBM iSeries beats IBM's "Interactive Processing Tax"
Xdata software can reduce iSeries acquisition costs by 50% and reduce annual maintenance costs by more than 50% when compared to other Tier-One ERP packages commonly in-use today. Xdata offers incentives like free data conversion from packages such as MAPICS.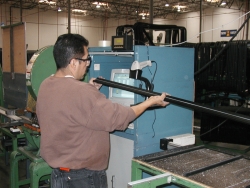 Elkhart, IN, October 26, 2005 --(
PR.com
)-- Xdata solutions, inc releases modernized midrange software for IBM iSeries and IBM AS/400 based companies. Xdata software offerings do not require any interactive processing resources on the IBM servers. This approach is unmatched by other web-facing, screen-scrapers, 5250, Websphere, and traditional green-screen application packages.
This technology allows companies leasing or purchasing new iSeries systems to upgrade to modernized applications and save tens of thousands of dollars.
Xdata is an International Software development company specializing in packaged business systems for manufacturing and distribution companies. Xdata provides distributors with auto pick-pack-ship integration and offers manufacturing systems designed for complete shop-floor machinery-integration.
Xdata solutions develops software in partnerships with both IBM and Microsoft offering a range of products for both IBM Midrange Servers and PC servers like Dell, HP, and Compaq.
Xdata can be contacted at sales@xdata.com or phone (574) 266-0964 to get additional information.
###
Contact
Xdata solutions, inc.
Reid Biberstine
574.266.0964
www.xdata.com

Contact