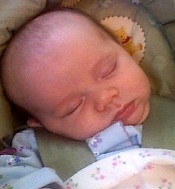 Seattle, WA, May 04, 2007 --(
PR.com
)-- The Kitsap County Sheriff and The Washington State Police have issued an Amber Alert for 2-month-old Serenity Withrow. Serenity's mother's parental rights were terminated and a court ordered that the child be taken into state custody. The mother has a history of physical abuse to children and drug use. The child was born in hiding.
Serenity Withrow is described as being a 2-month-old white female, with brown hair, hazel eyes, 1'11". 006lbs
The suspect, 32-yeard-old Rebecca Forrester is described as being white with brown hair, and brown eyes, approx. 140lbs. She has a tattoo of unicorn on her right ankle, has a heavily pocked mark face and false teeth.
She may be driving a white 2001 Dodge Dakota pickup with Washington license plate #A02765P.
Please visit
http://www.projectsafekids.org
for more details.
###