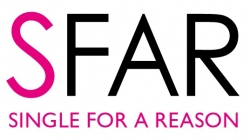 New York, NY, January 06, 2012 --(
PR.com
)-- As the world rings in 2012, humorous dating blog Single for a Reason (SFAR) is celebrating its first official full year providing real-life stories that entertain the masses. Inspired by tales from single friends far and wide,
Singleforareason.com
is a blog that compiles stories from around the world that make single ladies and guys cringe, laugh, and think, "I'm single for a reason." Through SFAR, founders Annabel Gould and Ashley Riegle give a voice to the millennial generation as they date in a world where social norms are shifting, communication is changing rapidly, and gender roles continue to be blurred. By using humor and the personal stories of their peers, the blog strikes a chord with the ladies and gents of their generation, and has accumulated readers of all ages, sexes and nationalities.
"A year ago, Ashley and I were sitting with a group of our girlfriends sharing some of the funny, ridiculous, and sometimes unbelievable things that had happened to us when interacting with guys – and girls. We knew these stories had to be shared, and that's why we created Single for a Reason," said co-founder Annabel Gould.
Partner and co-founder Ashley Riegle added, "Readers from around the world are discovering the SFAR community every day. Whether you are in Toronto, Singapore, Australia, Saudi Arabia or Memphis, you are part of the SFAR movement. We are excited to know that we are all united and can share our stories together. Plus, we post surveys and reader giveaways. Who doesn't love those?"
Singleforareason.com accepts anonymously-submitted stories and compiles them into daily posts featured alongside relevant news clips, music recommendations and editorial content. Since the official launch in May 2011, Singleforareason.com has grown a loyal fan base and is looking to expand and partner in 2012. Live coffee-shop readings, video segments and branded merchandise are just a few offerings SFAR fans can expect in 2012.
Submissions to SFAR are accepted via e-mail at submit@singleforareason.com. Stories, pictures, videos, and suggestions are accepted and taken into consideration for the blog.
About SingleForAReason.com
Single for a Reason is a dating blog for millennial men and women looking to share their stories and laugh over the hilarity of modern day romance. Formally launched in May 2011, Single for a Reason has had more than 180,000 unique page viewers – and readers in all 50 United States and more than 138 countries around the world. Emails and story submissions to SFAR are always treated with complete anonymity and reviewed carefully before being posted on the site.
Check out singleforareason.com and look for us on Twitter (@SingleForReason) and Facebook (Single For a Reason). Stories can be submitted by emailing submit@singleforareason.com.
Media Contacts:
Ashley Riegle, Co-Founder
Ashley@singleforareason.com
Annabel Gould, Co-Founder
Annabel@singleforareason.com
www.singleforareason.com
###