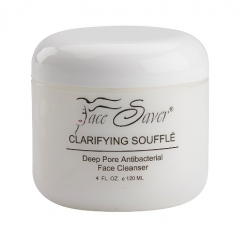 Detroit, MI, January 16, 2012 --(
PR.com
)-- Face Saver Cosmetics launches Clarifying Soufflé, a new multifunctional deep pore antibacterial cleanser that is formulated with herbal extracts to clarifying the complexion, softening the skin and clearing away blemishes for naturally healthy skin on their website facesavercosmetics.com. Face Saver Cosmetics, founded in Metro Detroit in 2004, is a made-to-order cosmetic company that embraces diversity by offering make-up to match skin tone and made-to-order skin care products that provide real and noticeable results – not promises -- in the way the skin looks and feel to help the consumer feel good about the appearance of their skin.
A solid first step on the road to smooth, radiant skin is a healthy facial cleanser. Clarifying Soufflé is a pH balanced cleanser that thoroughly cleans without stripping the skin of the essential natural oils needed to stay healthy and hydrated.
Jacqueline Boatman, esthetician and co-founder of Face Saver Cosmetics says, "Clarifying Soufflé rejuvenates the skin by clarifying the complexion, softening the skin and clearing away blemishes. Also, due to its natural antiseptic properties, Clarifying Soufflé makes an effective shaving cream that removes the bacteria that irritates the shave area."
Pore-clogging impurities, environmental pollutants and surface dead cell build-up create a dull and suffocating barrier that prevents the flow of oxygen. The skin needs oxygen to perform its many functions and generate new cells. Face Saver's Clarifying Soufflé removes the suffocating barrier for healthier skin.
Face Saver's line is not like anything found at local drugstores, beauty supply stores or department stores. Face Saver's products are manufactured in the U.S.A., are contaminant-free and very effective.
"Clarifying Soufflé is a powerful but safe and gentle cleanser that contains a higher percentage of active ingredients making it extremely effective. The cleanser promotes smooth and clear skin and the consumer will notice an immediate difference when using Clarifying Soufflé in the recommended pea-sized amount," says Boatman.
About Face Saver Cosmetics: A made-to-order cosmetics company founded in Metro Detroit in December 2004 by mother-and-daughter team, Jacqueline Boatman and Olivia Lomax. The Company custom designs make-up and skin care products for all skin types, textures and shades that provide authentic benefits to enhance natural beauty and improve the appearance of skin. To learn more about Face Saver Cosmetics, visit
www.facesavercosmetics.com
###