Winner of CDMA's Product Showcase at the 86th Annual Trade Expo
True-Dose wins best new product showcase at the Chain Drug Marketing Association conference in Orlando, FL.
St. Charles, MO, February 11, 2012 --(
PR.com
)-- Chain Drug Marketing Association (CDMA) held a Product Showcase at its 86th Annual Trade Expo. The Product Showcase is a chance for CDMA's Associate Members (Suppliers) to showcase their new, unique, and exciting products.
With over 45 participating companies, representing 82 impressive products, it was a tough competition. CDMA's Members had a chance to review the items on display and vote for their favorite. All categories were represented in the Product Showcase, including Health & Beauty, Consumables, General Merchandise and Seasonal, making it a diverse showing of products for CDMA's members.
This year's Product Showcase winner is described as innovative and unique with great packaging. True-Dose, a CDMA Platinum Member, was founded by animal lovers who have a passion to improve the quality of ingredients and accuracy of the dosing of companion animal health in the vitamin, supplement, and nutrient categories.
True-Dose is the only pet nutraceutical made in a pharmaceutical facility to FDA standards which ensures the pharmacist and pet parents that they are getting the highest quality ingredients available.
Like us on Facebook!
Follow us on Twitter: truedosepets
For information on the CDMA, contact:
Rachel Fallert
CDMA
43157 West Nine Mile Road
Novi, MI 48375
248-449-9300 x817
###
Contact
True-Dose
Trish Richter
314-222-6170
truedosepets.com

Contact
Multimedia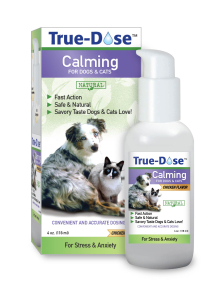 For Stress & Anxiety True-Dose Calming is recommended for pets exposed to increased environmental stressors. True-Dose Calming helps maintain normal disposition and contentment during separation, travel, motion sickness, and tension caused by changes in a pet's daily routine.