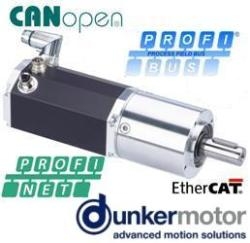 Elgin, IL, February 22, 2012 --(
PR.com
)-- G&G Technical, Inc. of Paoli, Pennsylvania has entered into a new authorized distributor agreement with rotary and linear motor and motion control manufacturer, Dunkermotor. Previously a distributor of the Copley Motion Systems linear motors which were acquired by Dunkermotor's parent, G&G Technical now also becomes an authorized distributor of Dunkermotor brushed and brushless DC motors and intelligent servo motors. With locations in Paoli and Reading, Pennsylvania, as well as Columbia Maryland, G&G sales engineers cover the Pennsylvania, southern New Jersey, Maryland, Virginia, District of Columbia and Delaware markets.
"Though we have succeeded in assembling a comprehensive array of motion control products, there are always holes that appear in our product offering that need to be filled," said Dan Vicario, president of G&G Technical. "The
integrated servo motor/drive/control technology
was a big hole -- and getting bigger, as this technology's time has definitely arrived, and could likely represent a large part of the servo market in the not too distant future. We feel that the Dunkermotor line rounds out our offering well and have no doubt that our companies will be mutually very successful in our territory."
G&G Technical, Inc. was founded in 1988, having evolved from a manufacturers' representative firm originally established in 1948. Today, G&G is a value added automation components and systems distribution company that prides itself on knowing intimately the products they offer for sale so that they may help their customers integrate those products into their motion control or vision applications. G&G's team of five outside sales engineers possess a variety of engineering degrees and many years experience in a wide variety of machine automation and motion control applications.
"We know that G&G is particularly strong technically as a value-added distributor," said Tom Brown, Dunkermotor vice president, sales. "We like teaming up with a channel partner who has a reputation for successfully handling challenging technical applications and being the right company to call when an OEM or machine builder needs competent technical assistance. It is a fact that G&G is known for providing first class application support for their customers. They are the guys that can often be found out on their customer's factory floor on weekends helping them through technical challenges."
About Dunkermotor:
Headquartered in Elgin, Illinois, Dunkermotor is the North American sales, technical support and logistics subsidiary of Dunkermotoren GmbH, for 60 years the global quality and value leader in customized, configurable sole-source fractional horsepower motion control solutions composed of BLDC, PMDC and AC electric motors, gearmotors, controls, encoders and brakes, as well as linear motion solutions. With headquarters in the Black Forest in Bonndorf, Germany and production and/or logistics facilities in Europe, Asia and the U.S., Dunkermotoren employs 1,000 globally and produced over 3.4 million motors in 2011 for the factory and commercial automation, specialty machinery, medical, solar power, packaging, semiconductor, and mass transportation industries.
###