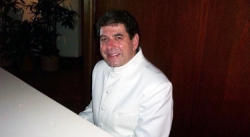 Oroville, CA, March 06, 2012 --(
PR.com
)-- While there are numerous solo piano CD's available, the uplifting compositions of John Paris stand out from the crowd. Not only is his music creatively composed, artfully arranged, and exquisitely executed, there is a wellspring of inspiration, which his music flows from that resonates in the heart and soul of the listener.
In a career that spans four decades, John Paris brings a wealth of real world experience to his recordings. With a skill that has been honed from touring major cities such as New York, LA, Chicago, Las Vegas and more, as well as performing with the Minneapolis Symphony, sharing the stage with the Moody Blues and other headlining acts, appearing on the Merv Griffin Show, Jerry Lewis Telethons, and more, John is a consummate professional.
On his latest release, Reflections, elements from his years of playing jazz blend alchemically with relaxing new age music that brings to mind the improvisational style of Keith Jarrett and Liz Story. While his years of experience have given him a formidable musical vocabulary to draw from, it is his deep spiritual outlook on life and his belief in the power of music to be inspiring and rejuvenating that adds the extra dimension to his sound which so many people have responded to.
The fourteen tracks on Reflections illuminate a full spectrum of emotion from pensive and peaceful to optimistic and upbeat, and much more. In John Paris' words: "As an artist, I venture to bring you to a warm familiar place...like the feeling before a long awaited homecoming." One listen is all it takes to experience the magic in the music of this gifted composer.
For information: www.johnparismusic.com
Contact: johnparis1@mac.com
Phone: 530-680-7750
###