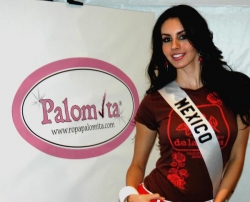 San Rafael, CA, May 23, 2007 --(
PR.com
)-- The 77 contestants of the Miss Universe Pageant looked stunning in the Palomita® tees they highlighted at the Que Belleza affair in Mexico City last night. Only a week away from the 2007 Miss Universe Pageant, the contestants were able to relax, mingle with local celebrities, and enjoy fabulous cocktails and DJ entertainment at the Moonbar in the China Grillat the Camino Real Hotel. Que Belleza was sponsored by Palomita, YMI Jeanswear and NYX Cosmetics.
Each contestant brought a different exotic look to the Palomita tee she wore at the event. The Palomita brand is best described by its motto: "Por fin una marca para ti" (Finally a brand for you). Palomita founder and Mexico City native Molly Robbins secured exclusive rights to use trademarks and vintage art from an array of Latino companies and translated the colorful logos and characters to junior apparel. Palomita features designs from fruit drinks of Pascual Boing®, clothing detergents such as Zote® and Roma®, Topo Gigio® the iconic puppet mouse, and confections from De La Rosa® and Dulces del Vero®.
The 77 nationalities represented at the Miss Universe Pageant demonstrated a universal fondness for the bright and vivid Palomita tees. Many of the contestants have been fashioning the tees at events and activities throughout the month before the May 28 pageant. "I'm thrilled that the contestants enjoy the Palomita brand," said Robbins. "The pageant in Mexico City is a perfect venue for Palomita. Many of our designs represent local Mexican brands ingrained in everyday life here."
Palomita is manufactured and distributed by Wish Licensing, and will be available at Sears, Mervyn's, and JCPenney in late July. Chucho®, the "hermano" brand to Palomita, will be launched in spring 2008. Chucho will focus on more masculine designs and feature products ranging from cement companies and tire manufacturers to beverages and confections.
Now in its 57th year, the Miss Universe Organization is a Donald J. Trump and NBC Universal partnership. The organization produces the MISS UNIVERSE®, MISS USA® and MISS TEEN USA® competitions, with the goal of improving the lives of women throughout the world. Contestants first compete in local and/or state pageants, and the winners advance to their respective national competitions. The Miss Universe Pageant will be televised live on May 28.
###