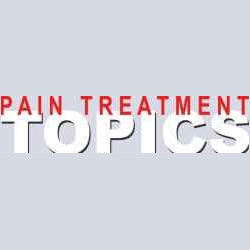 Chicago, IL, May 23, 2007 --(
PR.com
)-- Intractable pain, or IP, might be simply described as "chronic pain run amok." It afflicts up to 70,000 patients in the U.S., who often have difficulty receiving proper treatment for their severe, unrelenting, and usually incapacitating pain. Until now, however, there has been little guidance for practitioners or patients in managing IP.
The "Intractable Pain Patient's Handbook for Survival" is available exclusively from Pain Treatment Topics as a 35-page PDF document that may be downloaded free-of-charge at the Pain-Topics.org website and copied for distribution. The author – Forest Tennant, MD, DrPH – is a pain-treatment specialist with more than 30 years clinical experience and is a widely recognized authority on IP conditions. He is the founding Editor, and now Editor Emeritus, of the acclaimed journal "Practical Pain Management."
# Download the PDF at:
http://www.pain-topics.org/pdf/IntractablePainSurvival.pdf
According to Tennant, IP is much more serious than typical chronic pain conditions – such as arthritis, headaches, back pain, and others – since the pain never stops, and it can also negatively affect heart function, hormonal balance, and other body systems. *If untreated or undertreated, IP can be fatal.*
Tennant further observes that many healthcare providers do not know how to effectively treat IP, which requires a customized treatment plan often involving a combination of strong analgesics and adjunctive therapies. His "Handbook" takes a no-nonsense approach, explaining in everyday language how patients can communicate with healthcare providers, insurance companies, family, and others to receive proper care. Tennant also offers commonsense advice on the many medication options, diet and weight control, and other important but often overlooked subjects, such as:
-- How to avoid debilitating complications of intractable pain;
-- the need for medication compliance and guarding against drug overdose;
-- ensuring an adequate supply of medication at home and during travel;
-- how to stop being a "soap opera" and adopt a positive attitude.
An appendix includes helpful questionnaires to identify pain triggers and pain relievers. The many helpful tips throughout the "Handbook" provide a blueprint for not only surviving IP but improving one's quality of daily living with this persistent and life-threatening condition. Although this document is intended for distribution to patients, all healthcare providers will find it of value for understanding IP, its treatment, and the many barriers patients with IP must overcome.
###
Pain Treatment Topics and the Pain-Topics.org website provide open access to noncommercial, evidence-based clinical news, information, research, and education on the causes and effective treatment of the many types of pain conditions. It is independently produced and currently supported by an unrestricted educational grant from Mallinckrodt Inc., St. Louis, MO, a leading manufacturer of generic opioid analgesic products.
For this and other press releases from Pain-Topics.org, go to:
http://www.pain-topics.org/newsroom.php