AKMarket.com Has Brought New Selection of Goods for All Your Mediterranean Needs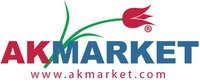 Paterson, NJ, March 18, 2012 --(
PR.com
)-- The online Grocery store (www.akmarket.com) offers customers great new selection, with competitive pricing. The store, offering over 200 new brands such as Tukas, Nestle, Dr.Oetker, Kraft, Knorr, and Marmarabirlik brings together a large, in-depth selection of dry Grocery products the best way -- one convenient destination, easy navigation, a single shopping cart, and candid customer reviews.
In addition, the store has a huge selection of natural and organic products, which include such as pomegranate juice, olive oils and honey to name a few. Currently, about half the selection is natural and organic.
As an introductory offer, shoppers will receive a $10 instant rebate on purchases of $99 or more in the online store. When they submit the coupon: PRESSOFF.
"When we asked customers what they wanted from a grocery store on akmarket.com, the answer was clear: 'great brands and products, at competitive prices.' We think we've met that challenge," said Matt Saricicek, vice president of Akmarket.com's store.
"We ordered products just a few days before the snow storm, AKMarket called about the shipping since it was going to my office, we arranged to have the products shipped the following week to ensure freshness of the perishable items. Everything was very well packed, nothing broken or smashed. All products were fresh and still cold. They even called to tell me that they found different shipping method that would cost us less but still get to us in the 1 day window for freshness. You will have repeat business from my husband and me. Thank You!" – Mary W., Pennsylvania
"My shipment arrived faster than the first 2-3 orders I had. I think, it has to do with changing your postal carrier to Fed Ex. No doubt, when dealing with grocery/perishable items, it is better to use Fed Ex. I was completely satisfied with the prompt delivery. Thank you." – Rumeysa D., Ohio
"Fast service lots to chose from all at a fair price. I will order more products. Great store!" –Jim W., Florida
The AKMarket.com store launched in January 2003. However, they have been doing the business since 2001 as turkishgrocery.com and turkishmusic.com. Which was also affiliated with Amazon.com at the time. Visitors to AKMarket.com's will discover deep selection and great prices in the following areas and much more:
-- Baklava
-- Baking Supplies
-- Beverages
-- Breakfast Food
-- Boxed Meals and Side Dishes
-- Coffee and Tea
-- Condiments
-- Dairy and Gluten Free
-- Household Supplies (conventional and eco-friendly)
-- Pasta, Beans, Grains & Rice
-- Soups & Stocks
-- Snacks, Cookies and Candy
About AKMarket.com
AKMarket.com opened on the World Wide Web in July 2001 and today offers United States Biggest Selection for medditerean and eurosian foods. Akmarket.com seeks to be United States biggest chain of ethnical grocery needs for all cultures and nationalities.
Contact: AKMarket.com Social Media
Matt Saricicek, 973-742-3700
matt@akmarket.com
Source: AKMarket.com
Contact
AKMarket
Matt Saricicek
973-742-3700
akmarket.com

Contact