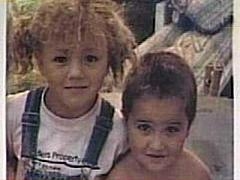 Springfield, IL, November 07, 2005 --(
PR.com
)-- The Marlboro Police Department has requested an Amber Alert for two abducted children. Looking for Christian Borey and Grace Trotta. Last seen near 144 Pleasant Street, Marlboro.
Christian Borey described as a white male, 3 years of age, brown hair, brown eyes, 3 feet 6 inches tall, 40 pounds, wearing dark blue nylon sweatpants with gray stripe.
Grace Trotta described as a white female, 5 years of age, brown shoulder length curly hair, brown eyes, 3 feet 11 inches tall, 50 pounds, wearing blue jeans that are Capri style and peach shirt.
They may be with: Kathy Trotta, white female, 37 years of age, long blond hair, 5 feet 8 inches tall, 120 pounds. May also be with Paul Jardin, white male, 37 years of age, wearing black sweatshirt. A breaking news report has the man accompanying Kathy Trotta as a Dennis Piper.
For a complete Detailed Profile of these Amber Alerts. Please visit our site at:
http://www.projectsafekids.org/alert.html
Webmaster's visit our website to download "The Project Safekids Amber Alert Ticker" to stay upated on current Amber Alerts as they happen. You can download our "Amber Alert" ticker by visiting our website here:
http://www.projectsafekids.org/code.html
Project Safekids also furnishes Breaking News and Amber Alerts via Cell phone and RSS/XML feed. You can subscribe to our RSS feeds for Amber Alerts by clicking on our feed link.
http://www.projectsafekids.org/AmberAlert.xml
###