Syncdocs Keeps Files in Sync with Google Drive
A new version of popular Google tool keeps online data synchronized.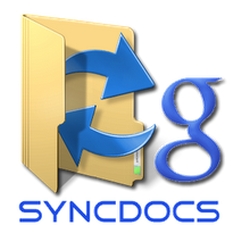 Sydney, Australia, April 24, 2012 --(
PR.com
)-- Syncdocs is a new app that turns Google Docs into a free online storage drive. This Google drive is can be accessed using any PC or mobile.
Syncdocs takes full advantage of Google's reliable, fast online storage - keeping PC folders synchronized with Google Docs and with other users.
Using Syncdocs, Google Docs appears as the G-Drive on the local PC. Files and folders across multiple PCs and mobile devices stay in sync automatically. Anything saved to these folders is automatically mirrored online and shared with all linked PCs and users.
In addition to providing file sync and online backup, Google documents are available right from the user's Windows desktop. This means that Microsoft Office is no longer necessary to open or create Word, PowerPoint or Excel files on the PC. Moving to cloud computing used to mean abandoning the desktop, but now with Syncdocs, users can work simultaneously in both cloud and desktop environments.
For easy collaborative work, Syncdocs also supports merging of changes from various users. It can even merge changes between desktop and cloud users. If multiple users make edits to a document concurrently, these changes are merged. For example, a user can edit a Google Doc offline using Microsoft Word, and then merge these changes back into Google Docs.
"Syncdocs gives you the freedom to access your data where you want it," said Donald Recsei, Syncdocs' product manager. "With Google Docs and Syncdocs, it's really easy to collaborate between desktop Microsoft Office users, and mobile staff on tablets and phones."
Users can fine-tune their synchronization to Google Drive with many advanced features like:
- full control over which files and folders at synchronized
- versioning and revision history
- mirroring of Google access permissions locally
- real-time collaboration between Google Docs and Microsoft Word users
- concurrent sync of multiple Google accounts
- offline access
- easy file sharing integration into Facebook, Twitter, Gmail and Google +
- scheduled backup
Because all Google data is backed up locally, all files are available even when offline. Any changes made when offline are synced again when the network is available. Syncdocs can also integrate with other cloud storage providers, like Dropbox to sync Dropbox to Google Docs.
The full version of Syncdocs is free, users are only charged when syncing a large number of files. A free download of the latest version of Syncdocs is available at
syncdocs.com
Contact
Syncdocs
Donald Recsei
+61423614853
syncdocs.com

Contact