Ray Finkelstein of United Realty Receives ABLI Distinguished Broker Award
The Association for a Better Long Island (ABLI) and The Commercial Industrial Brokers Society (CIBS) recently presented Ray Finkelstein, Principal of United Realty, a full-service Long Island-based commercial and industrial real estate firm, with its prestigious "Distinguished Broker Award."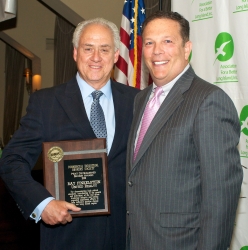 Jericho, NY, May 08, 2012 --(
PR.com
)-- The Association for a Better Long Island (ABLI) and The Commercial Industrial Brokers Society (CIBS) recently presented Ray Finkelstein, Principal of United Realty, a full-service Long Island-based commercial and industrial real estate firm, with its prestigious "Distinguished Broker Award." This award is given to an individual who has had a distinguished career in real estate and who has made significant contributions to the industry. Ray Finkelstein, whose career in the real estate field spans four decades, accepted the Distinguished Broker Award at the annual ABLI/CIBS Long Island Real Estate Dinner.
"Ray is respected by his peers and has an impressive record of success in the commercial real estate industry. Over the years he has been involved in many of the region's largest real estate transactions and projects. Ray is the consummate professional with a career which is most deserving of our Distinguished Broker Award. Ray has had an exemplary career, and he has always been willing to share his experience and knowledge as a mentor and guide," said ABLI President, Jan Berman.
"Working in real estate can be challenging, but for me it has allowed me to use my talents and work in a field that I enjoy. It has been a privilege to have had the opportunity to be part of the growth and development of the Long Island market. I will continue to work to bring people together and fit businesses with the properties that they need to grow. This is a most appreciated recognition that I share with my team at United Realty. Without their support and encouragement, I would not have achieved the level of success that I have today and continue to enjoy," said Ray Finkelstein.
In 2011 Ray received the ABLI/CIBS award for the "Most Ingenious Deal on Long Island." He was responsible for brokering and developing over 80 percent of Port Washington Industrial Park, and is often, in business circles, referred to as "Mr. Port Washington."
Ray has served on the CIBS Ethics and Arbitration Board and the Incorporated Village of Roslyn Estates Zoning Board of Appeals and as President of Homeowners Association of Villas at Harts Cove. Ray's support of charitable groups remains a top priority for him.
Ray holds a business degree from Southern Illinois University. He resides in Roslyn Estates with his wife, Donna and two children. His passions away from work include playing golf, boating, gardening and travelling.
For more information about United Realty, go to
www.unitedrealtyinc.com
and for more information about ABLI visit
http://www.betterlongisland.com
.
Photo Caption
From Left to Right - Ray Finkelstein, Principal of United Realty and Dave Pennetta, Principal of Oxford & Simpson Realty Services
Contact
United Realty
Bill Corbett
516 775 0435
www.unitedrealtyinc.com

Contact