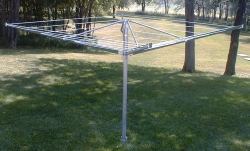 Parkersburg, IA, May 09, 2012 --(
PR.com
)-- Clotheslines and Flag Poles are hand built at G&G Industries, a small business in rural Midwestern Iowa. They are located within a few miles of the hometown of the original manufacturer of the Sunshine Clothes Dryer and have been able to preserve information from Joseph Clay (the patent holder), his descendants and people who worked with. This expertise along with current skills and ingenuity has enabled G&G to develop the Small Sunshine Clothes Dryer.
The new smaller version has features that follow the tradition of the Sunshine Clothes Dryer in that they are well thought out and useful. Using home delivery carriers G&G ships its outdoor clotheslines in the continental United States. Over the last several years clotheslines have been gaining in popularity and there has been more call for smaller units to fit smaller sized yards as well as households with lesser numbers. The Small SSCD (Sunshine Clothes Dryer) has been available since February of this year.
The most noticeable change, other than size is the green color. The SSCD has had Orange Arms for as long as can be remembered. A direct quote from a new Small SSCD owner, Diane in NY, is "Love the green color because it blends with nature." One of the new features is a Lift and Locking lever which raises the Arms the last few inches and with an over center motion locks the Arms in place, this makes the action easy. Another added enhancement is a Foot Clamp which is adjustable without any tools. A sectional Center Post assembly makes the unit much shorter and easier to move and store. The materials that make up the SSCD are; heavy gauge galvanized steel for the Center Post, Brace Arms and Brackets, Southern Yellow Pine (long leaf pine) for the Arms, 2 inch schedule 40 PVC with 16 gauge metal wings for the Ground Socket Assembly and 3/16" diameter, white, hollow braid, polyethylene, with U.V. inhibitors for the Rope.