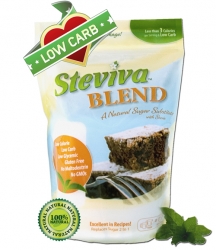 Portland, OR, May 09, 2012 --(
PR.com
)-- The FDA and the EU have given Stevia the green light to be used as a general purpose sweetener in food and drink applications, such as dressing, sumptuous sauces, dips, and lusciously rich condiments. One company in particular has been capitalizing on the acidified food markets. Portland, Oregon based Steviva Brands has increased its ingredient sales five fold over the past year. Steviva Brands president and founder Thom King said "We continue to see a very solid upswing in our ingredient sales for bulk stevia and Steviva Blend from the beverage and condiments. This will be a banner year for us considering our sales are already up over 600% over last year." Trinity Hill Farms also of Oregon has ventured into using Steviva Blend stevia sweetener in a line of acidified foods. They have recently released a line of all natural artisan condiments targeting the low carb and diabetic market. Trinity Hill Farms Chief Operations Officer, Joe Severson said "Steviva Blend has worked wonderfully in our marinades and sauces. We have been able to maintain a consistent 4.2 ph on all of our products and consumers are unable to tell that they are completely sugar free."
How reducing sugar and using Steviva Blend can help in acidified food production
A product with a pH of less than 7 is acidic, while one with a pH of more than 7 is alkaline. An acid product tastes sour, and an alkaline one tastes bitter. If acidification is not controlled at a pH of 4.6, it might result in a dangerous toxin producing microorganism, known as Clostridium botulinum, which can grow on some foods. Since stevia and related products fall shy of a pH of 7, these are neutral in acidity and are generally recognized as safe by the FDA. Granting stevia the status of "generally recognized as safe" sweetener, the FDA does not disagree that the all-natural sweetener or any of its ingredients are highly alkaline in nature and pose no health risks.
White sugar is acidifying in nature and devoid of all trace elements, enzymes, and vitamins, which is not easily converted by the body. However, naturally occurring sugars of fruits and vegetables and natural sweeteners, such as stevia, are not acidifying, as the tissues of fruits and vegetables have the required trace elements to complete their transformation in the body. Tests and research have shown the herb safe. In fact, Stevia is the only sweetener known to be highly alkaline.
Artificial Sweeteners
While other sweeteners are capable of metabolizing as acidic in the body, there is no toxicity associated with stevia or its products, as most bacteria cannot thrive in highly alkaline environment. Other artificial sweeteners should be avoided if you are following a high-alkaline, low-acid diet, since this can have a detrimental effect on the pH level in the body. Focus on natural Stevia sweeteners as part of your alkaline diet program.
Stevia is widely known for properties that lower blood pressure, regulate blood sugar, aid in digestion by reducing gas and acidity, relieve nausea, and help in reducing obesity. Despite being 300 times sweeter than sugar, Stevia has no calories, as the body cannot metabolize its glucose compound, glycosides, thus making it a safe sugar substitute.
About Steviva Brands
Steviva Brands was founded in 1999 and since then has become one of the premiere producers of stevia based sweeteners and other bulk ingredient sweeteners. Unlike sugar, stevia does not trigger a rise in blood sugar, making it a great sugar replacement for diabetics. Stevia which is calorie-free, is a logical choice in the fight against both adult and childhood obesity.
Steviva Brands, Inc. is dedicated to bringing consumers the finest quality products available. Steviva Brands wants to make the world a better place by doing its part to help its customers use less sugar and increase their well-being. More information about Steviva Brands is available at: http://www.steviva.com
Contact: Thom King: thom.king@steviva.com