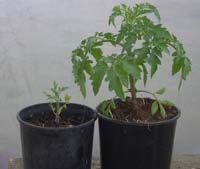 Brisbane, Australia, June 07, 2007 --(
PR.com
)-- A long time Australian tomato grower was stunned when he tried the advice in a new book and found that his tomato plants were 4 times bigger than the ones he planted and cultivated at the same time using his traditional techniques. He's now planning to grow crops commercially using the tried and tested advice contained in How to Grow Juicy Tasty Tomatoes.
"l cant believe the growth rate of the plant - the stem is much thicker, leaves have more colour and it's stronger looking all over" said Brett Scott of South Australia. "l conducted a trial by putting what you have said in your book into practice in my hot house. One plant I did your way, the other my way as I've always done it. I've also done the same trial with plants in the ground and they're doing even better. With a friend I'm going to produce tomatoes next year on a large scale for sale to the public and this is all because we now have an understanding of everything to do with the life of the tomato and from trials that we both have conducted using your book. We know that we can produce a far better product than what is currently on the market," added Brett.
This is just one of many wonderful emails received by the authors of a new book "How to Grow Juicy Tasty Tomatoes." The book was written by Annette Welsford and Lucia Grimmer of Brisbane, Australia. The 88 page book provides extraordinary detail (and over 260 photos) on every aspect of growing tomatoes from choosing varieties, preparing beds or pots, planting, nutrition, staking and collecting seeds. It also covers organic growing methods and touches on hydroponics.
Co-author Lucia Grimmer holds a Masters Degree in Plant Pathology and has won awards for several of her technical white papers. She currently works in plant nutrition and travels extensively throughout Australia training horticulturists and professional farmers in advanced plant cultivation techniques. She is also develops liquid nutrition products and conducts crop trials in conjunction with several government, university and private agricultural research facilities.
Although the book is based on scientifically tested techniques, co-author and editor Annette Welsford has made sure it is written in an easy to understand style making it suitable for novice home gardeners through to professional farmers. It has sold to thousands of growers in every country and is hailed by many as the most comprehensive tomato growing guide on the planet.
It is available for immediate download in ebook format or via email in glossy hardcover format from
www.bestjuicytomatoes.com.
Four very useful bonus items are also provided free with every purchase. These include an illustrated Common Problems Ready Reckoner for easy identification of plant problems, a Growth Stage Cultivation Guide, a Tomato Growing Diary and a Metric/Imperial Conversion Chart.
Further grower success stories and photos also available on website.
Copies of other customer testimonial emails or more information about the contents of the book available on request from Annette Welsford at info@bestjuicytomatoes.com.
###