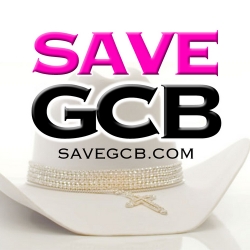 San Diego, CA, May 16, 2012 --(
PR.com
)-- Fans of the popular television series "GCB" have rallied to save the show after Fridays shocking announcement of its cancellation. Through an online petition at SaveGCB.com, fans have wrangled up a Texas size 27,000+ signatures in less than 92 hours. 10,000 signatures were collection in the past 24 hours. Story has front page of Dallas News and was Tweeted by Perez Hilton and featured on his blog as well as tweeted by Kristin Chenoweth, combined with Perez, that's over five million followers.
Petitions to save a TV show are nothing new, as the past reveals success in campaigns driven by fans for shows such as Jericho, Arrested Development, Futurama, Chuck, Designing Women, Start Trek, Roswell, Felicity, Family Guy and recently NBC's Community.
Monday, author Kim Gatlin said "I'm so grateful to all the people like Randy Bragdon who've taken the initiative to start a campaign like this on their own- a true, fan driven campaign of people who love the show and don't want to see it go away. This is an authentic and heartfelt effort by these fans to tell ABC what they really want to see on TV."
Mark Deklin, who plays Blake Riley said "I know I've said this before, but… WOW #GCB fans kick ass!" Jennifer Aspen who plays the bubbly Sharon Peacham said "About to go into surgery, got my gown on, looking fancy! Can't wait to see what the numbers are at when I wake up on SaveGCB.com!" Television host Wendy Williams tweeted "Help me save GCB. Tweet ABC and tell them not to cancel our show!" GCB's ‪Marisol Nichols said "I'm just saying...almost 13,000 signatures at SaveGCB.com in 2 and 1/2 days. Pretty darn cool."
The goal is to reach 100,000 petitions before the end of the week.