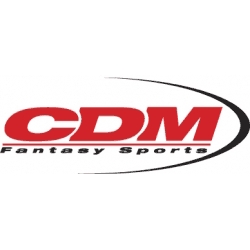 St. Louis, MO, June 08, 2007 --(
PR.com
)-- CDM Fantasy Sports, a subsidiary of FUN Technologies Inc. (TSX:FUN) (AIM:FUN), today announced the launch of its fantasy football game – CDM Football Challenge (http://footballchallenge.cdmsports.com). This marks the 15th consecutive year that CDM is offering the game.
The CDM Football Challenge fantasy football game allows fantasy fans to enter for as low as $29.95. Each team owner picks a team of 20 starters using a $30 million salary cap. Teams are ranked using rotisserie-style scoring for league, division and overall standings. More than $500,000 in cash prizes will be awarded at the end of the game in January.
"We are excited to be offering our CDM Football Challenge game for the 15th year," said CDM Fantasy Sports' VP of Marketing, Charlie Wiegert. "This game offers more cash prizes than any other fantasy football game."
The deadline for entering the game is Saturday, September 8, 2007, at 9 p.m. CDT. Last year Joe Forkner of Laguna Hills, CA won the $25,000 cash grand prize.
CDM Fantasy Sports offers a total of six full-season fantasy football games for all skill levels and budgets. You can view all of CDM Fantasy Sports' fantasy football games at http://www.cdmsports.com/football.
About CDM Fantasy Sports
CDM Fantasy Sports Corp. (http://www.cdmsports.com), a FUN Technologies company, is one of the leading providers of fantasy sports products and services in North America. CDM has operated fantasy sports games since 1992. The company currently offers baseball, football, basketball, hockey, golf and auto racing games that can be played via a variety of methods, including phone, mail, email, fax and the Internet. FUN Technologies also owns the fantasy sports sites Fanball (www.fanball.com), Fantasy Cup (www.fantasycup.com), TQstats (www.tqstats.com), and The Rototimes (www.rototimes.com).
About FUN Technologies
FUN Technologies Inc. is one of the world's leading providers of online and interactive casual and fantasy sports games and sports information. FUN is 53% owned by Liberty Media Corporation (NASDAQ:LINTA, LCAPA), and FUN's common shares are listed on both the Toronto Stock Exchange and the Alternative Investment Market (AIM) of the London Stock Exchange under the symbol "FUN". For more information on FUN Technologies' offerings, visit www.funtechnologies.com.
###