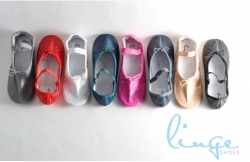 Seattle, WA, May 22, 2012 --(
PR.com
)-- Linge Shoes has just announced the launch of their highly anticipated online store and website.
Linge Shoes offers high quality and brightly colored ballet shoes for every occasion. The company has combined the classic line of the ballet slipper, and bright colors of this year's fashion trends, to provide a ballet flat for everyday wear.
The ballet slippers are made out of soft leather and have full-sole construction. The ballet flats can be worn anywhere. An extra pair of flats in a purse to change into after a long night out in high heels, keeping a pair at the office for daytime wear, and spicing up a favorite little black dress with a brightly colored ballet flat are only a few of the versatile uses for the shoes. The flats come in a variety of colors including fuchsia, charcoal and navy and sizes for both women and girls.
Linge Shoes has reported that production has finished and the company's warehouse started taking orders for delivery on April 22. 2012. The site was officially launched on Monday, May 21st and customers can begin placing orders for ballet slippers, which are a staple in any woman's wardrobe, and complete any look.
To find out more about Linge Shoes, and their line of ballet flats for everyday wear, contact the company directly.
Contact:
contact@lingeshoes.com
customersupport@lingeshoes.com
For more information on Linge Shoes and the launch of their online web store for ballet flats visit, http://www.lingeshoes.com/