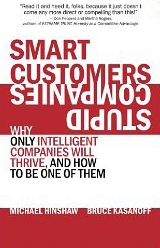 San Francisco, CA, May 22, 2012 --(
PR.com
)-- Massive disruption is coming to every major industry, say the authors of a new business strategy book, as wireless services empower individual consumers but weaken traditional business models.
In their new book, Smart Customers, Stupid Companies: Why Only Intelligent Companies Will Thrive, and How to Be One of Them (Business Strategy Press, May 2012, $24.95) Michael Hinshaw and Bruce Kasanoff describe how digital innovation has empowered consumers and businesses to research, connect and purchase through wireless devices.
They also prescribe a framework that established companies and entrepreneurs alike can utilize to profit from these disruptions.
Commenting on the book, B. Joseph Pine II - co-author of The Experience Economy – said "Technology-enabled customers are getting smarter every day, while companies mired in the same old ways of doing business just come off as stupider and stupider. Do not let that happen to you. Instead, follow Hinshaw and Kasanoff's prescription to ride the waves of today's perfect storm of disruptive innovations."
The four disruptive forces outlined in the book include:
• Social Influence – which inserts other people and their opinions between a company and its customers, radically disrupting traditional notions of "customer relationship management."
• Pervasive Memory – the data that accumulate in huge volumes as we interact through digital devices. It delivers competitive advantages only to firms who leverage this data to benefit customers.
• Digital Sensors – the trillions of devices that see, hear and feel what is happening in our world. Smart companies must have smart products, and sensors are what make products smart.
• The Physical Web – allowing us to browse, bookmark, tag and manipulate the real world much as we do on the Web.
"Digital innovation has raised customer experience expectations to an extent that should sound alarms for established firms" commented Hinshaw, "because only the most intelligent companies will be able to respond to – and profit from – these radically greater expectations."
The world has changed dramatically, say Hinshaw and Kasanoff, but many companies have not. Forget about innovation, they're not even sure how to keep up. This is the challenge each company needs to confront. After all, says Hinshaw, "No CEO wants to wake up one morning and discover he's running the next Blockbuster or Kodak."
"Look out your window," says Kasanoff, "The potential for innovation is limitless. Everything you see is already inspiring entrepreneurs and developers to create a new app, or launch a new business - each of which will take advantage of ever-present access to information and processing power. What if corporations adopted this mindset to develop new products and services, or improve customer experience – instead of operating in silos, and relying on outdated sources of competitive advantage?"
More information on the book Smart Customers, Stupid Companies is available online at http://www.smartcustomers.com. The book is available from Amazon at http://www.amazon.com/dp/0985133910
About The Authors:
Michael Hinshaw is managing director of customer experience innovation firm MCorp Consulting (http://www.mcorpconsulting.com) and president of Touchpoint Metrics http://www.touchpointmetrics.com). He integrates creativity and business strategy to transform how companies understand, interact with and profitably serve their customers.
Bruce Kasanoff is a customer experience consultant, author and speaker who focuses on marketing and innovation. He helps companies unearth creative new ways to profitably serve customers. His consulting firm, Now Possible, can be found at http://www.nowpossible.com.
Smart Customers (Stupid Companies):
Why Only Intelligent Companies Will Thrive, and How to Be One of Them
By Michael Hinshaw and Bruce Kasanoff
Business Strategy Press
ISBN: 978-0-9851339-0-0
About MCorp Consulting
MCorp Consulting is a customer experience innovation firm that grows value by improving customer experience. With a straightforward approach to mapping, measuring and improving the touchpoints between organizations and their customers, MCorp has helped many companies – from fast-growth market leaders to the Fortune 100 – transform the ways they interact with their customers, and profit significantly as a result.
Some of the global organizations MCorp has worked with include McKesson, T. Rowe Price, VISA and the United Methodist Church. MCorp helps companies define customer experience strategy, design implementation roadmaps, and take the guesswork out of decision making with proven, accurate and actionable data. Touchpoint Mapping® – MCorp's approach to quantifying customer experience – is a proprietary research and analytical model that helps companies understand, measure, prioritize and improve the customer interactions that drive value.
For more information, visit http://www.mcorpconsulting.com, or call 1-866-526-2655 toll free in the US, or 1-415-747-8264. Touchpoint Mapping and Loyalty Mapping are registered trademarks of MCorp Consulting.