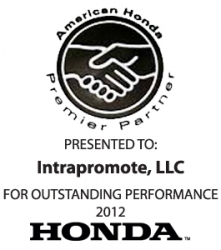 Hudson, OH, June 09, 2012 --(
PR.com
)-- American Honda Motor Co., Inc. President and CEO Tetsuo Iwamura on May 31, 2012 presented the company's Premier Partner Award to Intrapromote, LLC of Hudson, OH for excellence in organic search engine optimization of American Honda's consumer-facing sites, including automobiles.honda.com and www.acura.com.
Integrated search and social agency
Intrapromote was one of 15 award recipients selected from 41 suppliers nominated by American Honda associates nationwide. This is the second time Honda has recognized Intrapromote with a Premier Partner Award. Intrapromote was also awarded this distinction in 2005.
"As we enter our 11th year of working with American Honda, we're thrilled and honored to receive our second Premier Partner Award," said Erik Dafforn, president of Intrapromote. "We are proud to be part of the Honda success story, and we are fortunate to work with an organization that publicly acknowledges its partners in this way," Mr. Dafforn said.
Intrapromote's commitment to providing ground-breaking enterprise search campaigns extends back to the company's founding in 1999. Intrapromote has pioneered a number of industry best practices over the last 14 years, and this dedication to industry thought leadership continues today as Erik Dafforn is also the co-author of the book, "Search Engine Optimization Secrets," published by Wiley Publishing.
The Premier Partner Awards were established in 1998 to recognize suppliers who embrace American Honda's philosophy of exceeding customer expectations. This year's award winners represent excellence in a variety of industries including logistics, transportation, marketing, consulting, security and much more.
"Today we acknowledge an outstanding group of suppliers who exemplify Honda's philosophy of delivering the highest possible value to our customers through quality products and customer service," said Gary Kessler, American Honda's senior vice president of Human Resources, Administration and Corporate Affairs. "With all of the different facets of our business, we appreciate the outstanding support from these dedicated organizations and thank them for their contribution to Honda's success."
About Honda
Based on Honda's longstanding commitment to "build products close to the customer" Honda currently operates 14 manufacturing facilities in North America, producing a wide range of Honda and Acura automobiles, automobile engines and automatic transmissions, Honda all-terrain vehicles, and Honda power equipment products such as lawn mowers, mini-tillers and general purpose engines, using domestic and globally sourced parts. Honda started local production in the U.S. with motorcycles in 1979. In 1982, Honda became the first Japanese automaker to produce passenger cars in the U.S. Honda has continued to expand its local production capabilities, and cumulative automobile production in North America surpassed 23 million units in 2011.
About Intrapromote
Intrapromote is a boutique digital search and social media marketing agency that has developed and executed pioneering online marketing campaigns for both emerging and well known brands like Honda, Fisher-Price, Penske, Four Seasons, World Vision and Cleveland Clinic. Intrapromote's Executive Team is made up of thought leaders in the industry and its staff represents some of the most creative and experienced individuals in Search and Social Media Marketing today.
For more information please contact:
Sean Bolton | Vice President | Intrapromote, LLC.
A Boutique Search and Social Media Marketing Agency
Direct: 440-259-1842
Cell: 440-417-2834
Fax: 630.604.7656
Website: http://www.intrapromote.com
Follow Us on Twitter: @Intrapromote