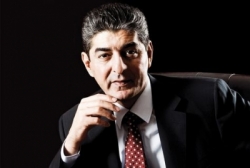 Doha, Qatar, June 11, 2012 --(
PR.com
)-- Arabian Business International magazine, ranked Dr. Naseer Shahir Homoud at 53rd position among the 500 most powerful Arabs from the globe. Dr. Homoud rubs shoulders in the 500 Power List 2012 with other powerful Arabs including media moguls, bankers, and heads of many governmental bodies. The list is topped by Saudi Arabia's Prince Alwaleed who accomplished this position for consecutive 8 years in a row. Other dignitaries in the list includes Sheikh Ahmed bin Saeed Al Maktoum, Reem Asaad, Lieutenant General Dahi Khalfan Tamim, Sheikh Ahmed bin Jassim Al Thani and is full of eminent and popular Arabs from every walk of life.
Dr. Homoud got place in this list for his untiring efforts aimed at humanitarian works and for his successful philosophy of business which took him to zenith of success. He is one of the most successful and famous entrepreneurs of Jordan and primarily a real estate mogul, author and philanthropist. He is a goal-oriented super achiever who has, for over two decades, applied his business expertise, experience, and personal energy with unparalleled discipline to reach the pinnacle of success in everything he has engaged in, including investment, real estate, philanthropy, and most importantly, life.
Having born and brought up in a family that greatly values dignity, mutual affection and respect and inculcates a sense of sacrifice for betterment of others, Dr. Homoud did not restrict himself to his hometown Irbid in northern Jordan. He was determined to contribute for betterment of his country, Arab world and humanity at large, by all means- money, time and efforts.
Despite being involved in investment sector, Dr. Homoud kept the flame of passion for sports blazing. He immensely supported the athletes in his country who had performed excellent in international and regional event and have proved as the best ambassador of the Kingdom of Jordan, despite meager facilities and support.
Dr. Homoud's views and positions on Arab issues have always been accorded prominence. In his views, he has supported sacred rights of people and their national aspirations, particularly those of Palestinians. More than half a million people connected with him on social media site Facebook keenly watch his statements and positions on various issues.
His first reaction to this accomplishment was, "I am humbled and honored to attain this milestone and I dedicate my success to my homeland, my family, my closest friends and to all those who shared good and bad times of life with me. I acknowledge that their support has been very important in achieving my successes."
Dr. Homoud though genuinely humbled by this great honour, is truly proud to be counted among his countrymen. Expressing his gratitude, Dr. Homoud said, "I am honored to get this listing. I feel that this accomplishment is the call for more and sustainable action towards the united goals."