Reva Camiel Signs Her New Book "Rewinding the Real" at W Gallery & Studios on June 21st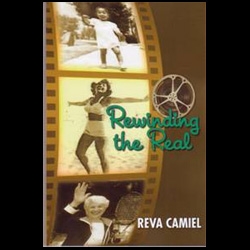 Sacramento, CA, June 14, 2007 --(
PR.com
)-- Laugh, snack, and meet new friends at the W Gallery & Studios. On June 21st at 6:30, W Gallery & Studios will be featuring Reva Camiel, PhD who will be sharing excerpts of her new book, "Rewinding the Real." Reva, a mischievous rabble-rouser will delight you with her comical, bordering on absurd stories about herself, her family, and the many people she's met along the way. Appetizers, provided by Restaurant 55 Degrees, will tantalize your taste buds as Reva tickles your funny bone.
Excerpts from Reva's book:
"I am crazy in love. I'm turned on; my body is not in control. I HAVE to be with this man that all my friends hate."
"She smoothly, with no fanfare, slipped a pistol out of her tiny purse and aimed it her husband in my office."
RSVP 916-847-0272. rsvp@wgallerystudios.com
Author, Reva Camiel, PhD is a California native and has been a practicing psychotherapist for more than 30 years. She admits she's exceedingly curious, enjoys laughing and doesn't mind poking fun at herself or her family at times. A learner for life, Reva admits, "I am still learning from my clients, my adult children, and the strangers I meet on the street."
W Gallery & Studios, located on J and 21st streets in midtown Sacramento, is a luminous space filled with radiant hues, intense warmth, suffused harmony. The gallery features art that emphasizes the powerful simplicity of color and form. Whether through painting, photography, sculpture or glass, each artist at W accentuates natural beauty, minimizing augmentation and enabling the hues, tones and lines to radiate. As you experience their art, you will see the harmony in their artistic expressions.
W Gallery & Studios | 2015 j street, suite 101 | midtown Sacramento | 916.847.0272 | info@wgallerystudios.com | wgallerystudios.com
Restaurant 55 Degrees, located on Capitol Mall between 5 and 6th streets in downtown Sacramento, is one of the hottest dining destinations in the region. Chef Luc Dendievel and his team never fail to produce amazing dishes featuring the best of local products. Restaurant 55 Degrees
Restaurant 55 Degrees | 555 Capitol Mall | downtown Sacramento | 916.553.4100 | restaurant55.com
For additional information, print quality photos of the author and book, or a sample copy, Contact:
Lisa Watts
W Gallery & Studios
916-847-0272
lisa@wgallerystudios.com
http://www.wgallerystudios.com
###
Contact
W Gallery & Studios
Lisa Watts
916-847-0272
www.wgallerystudios.com

Contact