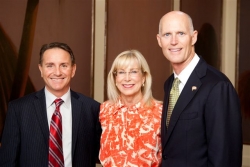 Plantation, FL, July 06, 2012 --(
PR.com
)-- Ron Cika, Broker of Coral Shores Realty Inc. located in Plantation, Florida, joined top real estate brokers and Realtors from across Florida in Tallahassee to meet with Governor Rick Scott and other top officials.
Cika and other brokers discussed a number of issues that affect all Floridians and the state's economy, including how to encourage job growth, attract diversified industries and strengthen the state's business-friendly climate.
"Every day, brokers hear from their agents about the challenges in Florida's real estate markets," said John Sebree, senior vice president of public policy for Florida Realtors. "I believe it was clear to all of the brokers who made the trip to Tallahassee that together, their voices are heard by Florida's leaders. Together, we can make great progress on the most important issues of today."
"Sharing Realtor stories from the frontlines with the governor was in incredible opportunity for Florida's large real estate firm brokers. Using real-life cases of transaction that fell through because of a lack of property insurance options, for example, resonated with Gov. Scott," Sebree said.
Brokers also discussed property tax issues, including Amendment 4, the proposed constitutional amendment supported by Florida Realtors.