NutraEnterprises LLC and Dietary Formulae Inc. Develop "Superior" Hoodia Diet Gum for Weight Loss
Hoodia Gordonii is the most popular herbal appetite suppressant since ephedra. The latest product to emerge using Hoodia gordonii is "chewing gum." Some Hoodia chewing gum products to come onto the market fall short of expectations. Soon to be released NuTrimU and Slimatrim Hoodia diet chewing gums are showing some real potential.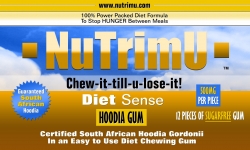 Los Angeles, CA, July 10, 2007 --(
PR.com
)-- Chewing gum containing herbs or medicines and having a "function" other than traditional enjoyment, is gaining popularity. The weight loss industry is one of first to take note and a few supplement manufacturing companies have developed chewing gum diet products. Hoodia Gordonii chewing gum has jumped to the forefront and holds the most promise.
This new "delivery system" as it is sometimes called, definitely does have it's benefits. Approximately 90% absorption of active ingredients, directly through the lining of the mouth, can be achieved by taking a supplement in chewing gum, compared to a modest 20% obtained with conventional supplements. This translates into improved efficacy and more value. These herbal chewing gums can be carried and used discreetly, just about anywhere, anytime and are far more enjoyable than taking traditional supplements for many people. NutrimU and Slimatrim have crisp spearmint flavors and are sugar free as well.
The obvious convenience, fun and ease of use of this innovative diet aid is its biggest selling point. The increased effectiveness of these chewing gum products result from the rapid transit of the "miracle molecule" P57 into the blood steam, bypassing the digestive system. This compound is believed to act on the hypothalamus signaling "fullness" and eliminating the desire to eat.
Chewing Hoodia diet gum has a host of other side benefits in addition to the intended effect of appetite control. Chewing gum has been researched by Wrigley's and other scientists and found to increase concentration, relieve stress, aid in digestion, clean teeth and if sugar free, prevent cavities buy increasing the flow of saliva.
NuTrimU and Slimatrimm the first brands with significant amounts of Hoodia Gordonii in them at 500 mg per piece, is an improvement over some other Hoodia gum products on the market. However, more Hoodia per piece, is just part of the reason these brands are a cut above the rest.
Fake and/or low grade Hoodia is virtually flooding the market now. The developers at NutraEnterprises LLC and Dietary Formulae Inc. decided to provide consumers with published, batch specific, third party test results for the Hoodia used in all their Hoodia diet gum products. Now days this means providing results from Alkemists Pharmaceutical Labs.
As with supplements, you have to back up claims of authenticity with proof. They differ from other Hoodia chewing gum product manufacturers in that they also publish the proof of the origin of the Hoodia Gordonii used in all their products as South Africa. Rather than just making the claim that this is true, they do publish CITES for the exact batch of Hoodia used. This can not be said for the other brands currently on the market.
What is important for the consumer to know at this point, is that the same thing applies to these new gum products, as does currently available Hoodia diet pills. Quality varies drastically and all are not created equal.
NutraEnterprises developed NuTrimU with Dietary Formulae Inc., the first company to introduce Hoodia gum to the public in 2005 with Slimatrim, followed by ChewAway Hoodia gum, a compressed three layer, pharmaceutical grade Hoodia gum.
NuTrimU Hoodia Gum is being distributed worldwide and wholesale enquiries should be directed to:
Wholesale Hoodia Supply California
and the Official Website:
NuTrimU Hoodia Gum
###
Contact
NutraEnterprises LLC
Ms Deborah Patrie
1-949-376-8351
www.nutrimu.com
wholesale@nutrimu.com

Contact