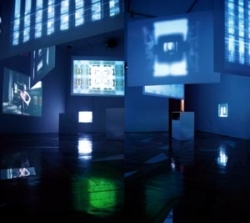 Madrid, Spain, June 24, 2007 --(
PR.com
)-- Tim White-Sobieski has begun his photo-video project "Deconstructed Reality" in 2000. This ongoing series originated from the previously created "Moving Drawings" and "Moving Paintings" when artist was developing new code techniques in video animation.
The project gained its peak and final character in 2006 when the artist traveled around the world collecting different geographical references; subsequently, the project was divided into different cycles dedicated to the major (and/or unique in their aesthetics) cities of the world.
Obviously, the first part was dedicated to New York City (2005) where the artist lives and works. The second part pictured Madrid, next came London (never shown yet), then - New Orleans and Berlin. Currently the cycles about Venice, Copenhagen, Paris, Mexico City and Rio de Janeiro are in production; all of these parts are planned to be released in 2008.
Initial idea of the project was triggered by social awareness of current peace instability in the world. The artist's state of mind was heavily affected by the events of September 11, 2001, when his studio was destroyed in downtown Manhattan along with the Twin Towers. After that, White-Sobieski created many photo and video works reflecting on instability and fragility of today's world. In almost all of his videos, the artist has multiple references to documentary sources: "Runner" (1997), "…and God Bless America" (1999), "Terminal" (2001), "Confession" (2002), "Before They Were Beatles" (2003), "Queen Mary" (2004), and indisputably "Deconstructed Reality" (2006-2008).
The term "deconstructed" brings "constructivism" to mind; just like constructivists Anton Pevsner and Naum Gabo almost a century ago, White-Sobieski looks to technology for inspiration. Twelve channels of the current installation consist of analog and digital footage as well as computer coded animation (codes are written by White-Sobieski). Projected onto hanging acrylic screens, the video becomes a real time/space sculpture. This video installation seems to move freely in both time and space, and has its own spring-like dynamic that allows for a mystical effect, i.e. it makes the work to surpass its formal perfection.
Ten large photographs (120x180 cm) surround the video in a wall-like composition; none of the photographs contain a human figure in their landscape, they are rather rational curves surrounding the world gone mad (video). The sublimely decorative reaches a special climax in White-Sobieski's deconstructed cityscapes. The surfaces of "Deconstructed Reality" are abstract and geometrical, and yet there is an abstract overall design. The gleaming figure of a teenager in the video ("New Orleans, After the Flood") seems to exist for its own sorrow and its own aesthetic and expressive sake. White-Sobieski is a master of finding the inspiring in the well-known, in the most fleeting exteriors of life. He is showing that every day is concealed with spirituality, which is what makes "deconstructed" images so alive.
On view in Pilar Parra Galeria de Arte in Madrid from June 7 until July 30, 2007.
###