What The Folk, a New Album by King Kohn - Release Date 9/13/2012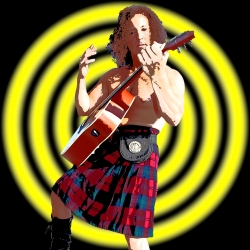 Austin, TX, August 13, 2012 --(
PR.com
)-- King Kohn proudly announces his third album release and sixth studio production since diving headlong into the music scene with the release of his debut Album, Peace Love Death, on July 13, 2011. King Kohn has gained national airplay and recognition on famous radio shows like Dr. Demento (Die! Santa Die! EP released December 1, 2011) and CBS Boston's The Toucher and Rich Show (featuring a fourteen minute roast of Peace Love Death). His offbeat, eclectic style combines acoustic, folk, 60s and 70s rock, theatrical, classical and metal music in a unique tapestry.
"This is hymnal folk storytellin' but with a Metal twist, backed by beautiful melodies, sung with a genuine fragility. King Kohn unravels a tumbling vocal style which along with the pluralism of instruments creates a strangely touching expression of unbridled joy." — Ilias G, Most Def Blogspot: Did Y'all Hear That (June 30, 2012)
"You may love him or you may hate him, but you probably won't be able to ignore King Kohn (!)" — Babysue (6/1/2012)
What The Folk is a tribute to King Kohn's love of folk music. It emphasizes eloquent, playful lyrics astride passionate vocals, whispers and growls. The production boasts thirteen diverse tracks, and is scheduled for release on September 13, 2012. The album is a return to the dynamic sound of the 1970s with a modern twist. From solo piano pieces and passionate guitar etudes to whimsical lullabies and angst-died anthems, What The Folk is a must hear for those questing for something new and bold.
King Kohn is available for phone interviews. Contact Michael Kohn to schedule a convenient interview time. Please visit King Kohn's official website at www.KingKohn.com for more detailed information, including high quality images, MP3s, a full bio and to listen to tracks from his new release (new tracks available for public preview on 9/13/2012).
King Kohn LLC - PO Box 4992 - Austin, TX - 78765 - press@kingkohn.com - www.KingKohn.com
Contact:
Michael, press coordinator
press@kingkohn.com
www.KingKohn.com
512.903.4900
Contact
King Kohn, LLC
Michael Kohn
512-903-4900
www.KingKohn.com

Contact