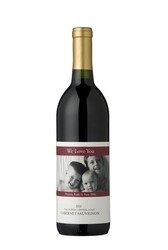 Healdsburg, CA, June 27, 2007 --(
PR.com
)-- The best presents are also the most personal, capturing exactly what makes a relationship special. The secret: a personalized wine bottle label with your photo of friends, family, or even pets. The process is easy. And the result is truly remarkable turning an otherwise fine bottle of wine into a memorable keepsake—and giving any day a cause for celebration. For the Photoshop adept, it's an opportunity to be truly creative and design an inspired wine label from scratch.
A gift of wine is always valued, but it becomes a super gift when personalized with a treasured family photo, corporate logo, or holiday greeting. Shoppers simply upload any digital picture, logo, or other artwork to
www.picturemywine.com
to begin the enjoyable process of making lasting memories.
Consumers order Picture My Wines award-winning wines selected by the Healdsburg Wine Co (Healdsburgwineco.com) from the following selections:
• 2002 Cabernet Sauvignon, Paso Robles
• 2005 Chardonnay, Barrel Fermented, Sonoma County
• 2000 Brut Sparkling Wine, North Coast, Private Reserve
• Extra Dry Sparkling Wine, Wedding Cuvee
• Non-Alcoholic Sparkling Juice
With fine wine on the screen, and treasured photos one mouse click away, shoppers are ready to create their customized masterpieces from
Healdsburgwineco.com
wine selections selecting from a number of designer labels for every special occasion, including birthdays, anniversaries, or holiday greetings, as well as blank labels that encourage personal creativity. Insert a picture, add a message, and the newly minted, one-of-a-kind, customized label can be instantly previewed.
Checkout is also a easy. Shoppers on the go can order as little as two bottles and up to five cases with one easy click. Their personalized wine bottles will ship to any office or home in 30 states, with non-alcoholic beverages deliverable to all states. The wine ships within three to four days of placing the orders with overnight shipping available in most states. "Our personalized wine bottles represent exceptional value, unbeatable creativity, and limitless customization for any dotPhoto customer seeking a new and exciting gift, or a fun treat for their own kitchen table," says Howard Smith, President of Picturemywine.com.
About PictureMyWine
Picturemywine.com is a leading provider of personalized wines shipped compliantly to over 30 states, and is located in the heart of Sonoma County, California wine country. Howard Smith, President, has spent over 24 years in direct to consumer wine sales specializing in custom wine products distributed winery direct through an engaging inside sales team of telemarketing wine consultants.
###